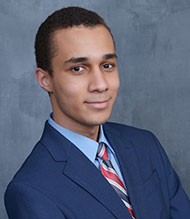 At CENTURY 21 Cedarcrest Realty, we're thrilled to have the next generation of real estate pros join our agency. The newest addition to our team is a true Gen Zer—19-year-old college student, Omar Ibrahim.
Omar, who lives in Clifton, is a sophomore at Rutgers University, studying industrial engineering. He attended real estate school last December, got his license in January, and joined Cedarcrest Realty in early summer. Why real estate?
"I'd always been interested in learning more about real estate with an eye towards future investing, and had been reading books and watching videos about it; I'd been thinking that becoming a real estate agent would be a great steppingstone to becoming a real estate investor," explained Omar. "I became friendly with a former Cedarcrest Realty agent in town, who told me a lot about the real estate field, which propelled me to get my license. He spoke highly of the Cedarcrest office so when it was time to join a brokerage, that was the first place I went."
Omar is grateful for the coaching he's getting from Dennis DiSabato, sales manager in our Caldwell office. "I'm learning a lot here on the job that wasn't covered in real estate school. Dennis is very up-to-date with what's going on in our markets and has shared great techniques to getting transactions done smoothly; he's been so great to work with."
With college classes being held virtually right now, Omar says that although he's a full-time student, he has plenty of time to work the CENTURY 21 leads system and MLS listings to help people searching for a new home. He has several deals in the pipeline already, representing both buyers and sellers in Essex and Passaic counties. He says strong time management skills are key to juggling school and work and so far, so good.
Broker owner John Sass notes that while Omar has duly impressed all of us at CENTURY 21 Cedarcrest, he is equally impressive in his academic life. He was a project manager for NASA HUNCH, leading a team of students in creating prototypes for the International Space Station; they were recognized for their success, ranking in the top seven teams nationwide, by the U.S. House of Representatives.
"Omar represents what passionate, focused people can achieve in any field. The fact that as a new agent, at such a young age, he's been able to get five real estate deals moving ahead this summer is a glimpse of where he's going in life," said John. "We are looking forward to helping him rock his real estate career as part of the new generation of agents we are bringing into CENTURY 21 Cedarcrest Realty."