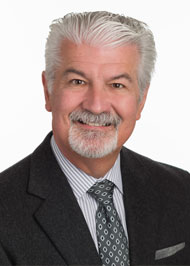 When we say real estate is in his blood, we really mean it! Dennis DiSabato is a third-generation REALTOR ® and real estate professional, having grown up in the business and learning a lot from his grandfather and father. In fact, his grandfather was a REALTOR before the National Association of Realtors ® even existed!
"I joke that when I was born, instead of a birth certificate they gave me a real estate license," says Dennis, who is a broker, sales person and sales manager at Century 21 Cedarcrest Realty. As such, he uses his years of real estate experience to help our agents conduct the smoothest transactions possible and avoid hitting any bumps in the road to successful closings. Dennis joined Century 21 Cedarcrest Realty in 2010 after many years at the Terry Perko Agency in Little Falls.
Dennis has been very active in the local real estate community and its professional organizations, having first served in several leadership positions for the Arlington Kearny Board of Realtors (which later merged with the Meadowlands association), and as president of the Passaic County Board of REALTORS.
He considers himself a regional REALTOR, given his extensive experience that has truly spanned across northern New Jersey, from Netcong to Jersey City. Because he has represented so many sellers and buyers across the region over the years, Dennis is always ready to help our agents hone in on an area to better serve their customers.
"I can help someone zero in on the right towns and the homes within customers' budgets before anyone has a chance to use the technology tools we have to find the information," says Dennis. As his company bio states, in today's fast paced, ever-changing market, there is no substitute for experience.
Here's another thing Dennis stands by in today's high-tech, low-touch world: personal communication and in-person service. He notes that working in such a time-sensitive industry, a phone call is more targeted and that verbal communication will help rectify a misunderstanding quickly as well as soothe jittery buyers or sellers—something a text or email cannot always do.
Of his managerial capacity at the agency, Dennis says that anything the sales people are encountering, he's likely already dealt with, and has plenty of tips to share throughout the course of the transaction to ensure contracts make it to closing.
He also helps our sales people differentiate themselves from the thousands of others out there, when it comes to signing a listing and working with customers throughout the life of the transaction. He says it's all about providing the personal touch, such as fully vetting buyers and presenting offers in person rather than electronically (a little old-school touch that goes far when it comes to customer service!). He also says a good real estate agent must be the best listener around, which is part of Century 21 Cedarcrest Realty's consultative approach to real estate sales.
As testament to his sales ability, Dennis is a long-time member of the New Jersey Association of REALTORS' distinguished Million Dollar Sales Club and a recipient of its Circle of Excellence award. He stays at the top of his game by attending continuing education seminars on a regular basis, picking up tips to refresh his presentation of offers or ways to communicate with buyers.
"Knowledge doesn't make the sale, it's the emotion," says Dennis. "The real estate agent needs to find out their personal motivation behind the move and hone in on their hot spots; they might not even know what they want or don't like. A real estate professional determines what's really important to buyers, through listening and experiencing various homes with the customer. You can show them something they didn't think they wanted, and then they realize it's the perfect home for them because you listened."