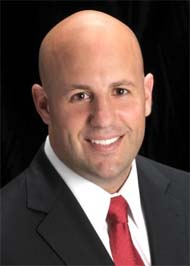 Frank Conturso has certainly earned his place in our spotlight, as Century 21 Cedarcrest's top producing real estate agent in 2016 and 2015 (he was warming up by being our second highest producer the previous two years).
A native of Nutley, Frank joined our agency eight years ago after an interesting and winding career path that in hindsight led him straight to our door. His professional life began in finance on Wall Street and then as a client rep for a financial software company in California, where he got a taste of customer service.
After returning to New Jersey, Frank experienced firsthand what it takes to build a quality home, when he went to work with his brother in the latter's construction company. Although he was a project manager, he had ample opportunities to get his hands dirty and see how to build a house from the ground up, to see a raw piece of land become someone's dream home. The experience also taught him the value that remodels and additions bring to an existing home. This got the wheels turning about his next career move into real estate. The time was right to make the transition when the construction business slowed down in the aftermath of the Great Recession.
"I saw a career as a real estate agent as an opportunity to do things the way I wanted to—to look out for my clients' needs and interests first and foremost," says Frank. "I believed that the income would flow naturally if I did things the right way."
As part of his research into a real estate career, Frank turned to his uncle, who is in the business locally. Frank told his uncle that it was important for him to get into an office where he'd receive good training. He originally thought he'd go work with his uncle but the advice he got was a game changer. "If I had to start over, I'd go work for John Sass," his uncle told him. "He believes in ongoing education and does excellent training."
Frank agrees 100 percent. "John is a great person to learn with. I really liked that training is a priority for him. He truly wants to see his agents succeed."
Although he got started in the field during a very difficult time (2009), with many distressed properties and short sales in the New Jersey market, Frank understood that the tough times offered an excellent opportunity to learn the business the right way. "Learning in a difficult time like that prepares you for just about anything," notes Frank.
He seems to have learned quite a bit, given his rising sales production over the years. In addition to being our agency's top producer, he has won the following Century 21 honors: Quality Service Pinnacle Producer Award (2011-2016), Masters Diamond Level and Emerald Level Awards (2012-2016), and a President's Award (having achieved both CENTURION® level production and the Quality Service Pinnacle Award in the same year, 2015). Frank is also #79 in our entire NJ/Delaware region and a recipient of the New Jersey Association of REALTORS® (NJAR) Silver Level Circle of Excellence Sales Award (2012-2016).
"I have a good team around me with strong support, with John being first and foremost in that role. My mentor there (who has since left) was also a big part of my success as is believing in what we stand for at Century 21 Cedarcrest," he says. Frank is quick to point out that all agents, new and seasoned, really look out for each other.
"Being here feels like family to me and family has always been important to me in personal life. To have it in professional life is a blessing."