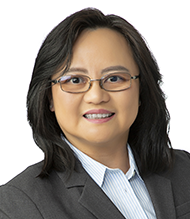 English, Mandarin or Cantonese—in any language, Tracy "Yaw" Chan is an award-winning real estate sales professional.
A native of Hong Kong, Tracy has been with Century 21 since 2002, helping clients buy, sell and lease residential and commercial properties in Bergen, Essex, Hudson, Morris and Passaic counties. She joined Century 21 Cedarcrest Realty in the spring of 2016, having worked in previous years with broker owner John Sass.
"I was immediately comfortable here, because I knew quite a few of the agents," says Tracy of her move to Century 21 Cedarcrest. "Plus, I really appreciate the in-house training classes, which are great reminders—even for experienced agents—about sales techniques, state guidelines and real estate technology."
Since joining our office, she has continued her winning streak as a consistently high producer in both residential and commercial real estate, with numerous awards for sales and service. At the regional awards gala in March, Tracy took home two awards from Century 21 for production and service and the Century 21 Quality Service Producer Award for customer service; and a New Jersey Association of REALTORS® Circle of Excellence Sales Award® (silver), which recognizes excellence in salesmanship. She has won these awards many times throughout her real estate career, along with the Century 21 Masters Award in the ruby, emerald and diamond levels, the Centurion Award, President's Award and the Quality Service Award.
Tracy is also a member of the NJAR Distinguished Sales Club, recognized for 10 or more years of excellence. Her many positive reviews on Zillow speak volumes about her patience, willingness to go the extra mile, her responsiveness and her ability to navigate both residential and commercial property transactions with efficiency and ease.
Prior to entering the real estate field, Tracy was the operations manager for a Turkish shipping company, where she became an expert at working with international business professionals. She holds an MBA in computer science from City University of New York, which she puts to use every day using Century 21's real estate listing technology tools.
"My computer science background has enabled me to take full advantage of the latest real estate listing technology tools with ease," says Tracy. "And, having taught piano in the past, I find that teaching experience has enhanced my listening and communication skills, which are so vital when working with home buyers or sellers."
Tracy also holds the National Association of REALTORS® Short Sales and Foreclosure Resource® (SFR) certification. This has provided her with a strong framework in which to work with sellers and buyers in this niche, developing short-sale packages, qualifying sellers and directing them to other professionals they need for these delicate transactions, and protecting buyers. In addition, she is a certified staging professional and an accredited buyer representative (ABR).
Of her switch 15 years ago to real estate, Tracy cites several factors that have brought her tremendous personal and professional satisfaction.
"I really like the variety and flexibility that a real estate career offers; every deal and every client is different, and I've been able to apply my diverse work and education experiences as well as my own cultural background, to something I really enjoy."