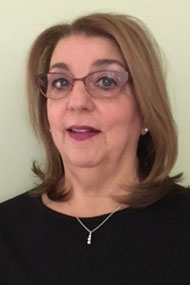 Meet Century 21 Cedarcrest's very own dynamic duo, Carolyn Maloney and Jacqueline Cabrera. Carolyn has been with Century 21 Cedarcrest from the very start of her real estate career and Jackie joined us about 18 months ago. They teamed up last year to work not only on area listings but on community outreach projects as well and we couldn't be prouder of these two!
Carolyn, a lifelong resident of Essex County, came to Century 21 Cedarcrest after a career in teaching. In fact, the Cedarcrest real estate agent who sold her the home in Cedar Grove where she still lives convinced her to make the switch; she's been with our office ever since obtaining her real estate license in 1988.
"The thought of being able to do for other people what he had done for me and my family interested me. I've been very happy at Century 21 Cedarcrest and never had a reason to leave, which is unusual in our business," says Carolyn.
Among her more unusual transactions, Carolyn once listed a house in Ireland, a small row house with a coal-burning stove as its heat source. "I took care of referral from here over to Ireland and oversaw the transaction, working with the "solicitors" (lawyers) and "estate agents" there," she explained.
Carolyn appreciates the agency's professional development offerings and takes advantage of outside training and motivational programs whenever possible to keep up her real estate game.
"You have to keep learning and stay on top of it. I always walk away with something important that I either didn't know or was reminded of," she said.
After all these years, Carolyn's favorite part of the job is still finding people something they really love. "It's nice to pair a customer with a place they'll really enjoy. I especially look out for women who are alone, making sure they find a property that's safe."
For Jackie, it's helping first-time buyers or sellers. "I love walking them through the entire experience from start to finish," she said. She also enjoys holding open houses. "I like meeting new people who are potential clients and helping them find the next place they can call home."
She says her degree in psychology and her background in customer service help her when she meets new clients. "In real estate, we have to read people and ask the right questions in order to understand what they like, so that we show them the right properties."
Of her first year in real estate, Jackie says, "The real-life experience of real estate is different from what you learn in the books—and very different from the TV shows! In between the hands-on experience and our in-office training, I'm finding that you never stop learning."
Jackie understands well why Carolyn has worked her entire real estate career at Century 21 Cedarcrest Realty. "Our environment is very different from other offices and I'm very comfortable here. You can tell that (broker owner) John Sass genuinely cares about us and everyone here is willing to help. We have Susan Mazzetta's in-house training and whenever I have an issue I can't resolve, I know I can tap John, Susan or Dennis DiSabato, our sales manager, for their input."
She is also learning a great deal from Carolyn; they've been working together in a mentor-mentee relationship for about year, and quickly realized that their different styles, skills and work experience make them an excellent team. Together, they have been marketing to home buyers as well as sellers; they recently have shifted their attention to first-time home sellers who may need a knowledgeable assistance with the listing and selling process.
It could be argued, however, that their finest work has been their beautification project they undertook in Caldwell.
While exploring Brookside Avenue in Caldwell, the women were invited into the home of an older woman who was upset about a neglected patch of land that was a neighborhood eyesore. Carolyn and Jackie decided to adopt it and beautify it. They got permission from the mayor and town council to do so and in September 2016, they transformed the eyesore into a small, colorful garden. They now maintain it year 'round with seasonal plantings and in December, with holiday decorations as well.
Their next project: installing a tiny free lending library that sits on a pole, possibly in Verona, where Jackie now lives. "I was a teacher so getting people to read is important to me," noted Carolyn. Jackie is talking to Verona officials to assess whether they can bring this community outreach project to her town.