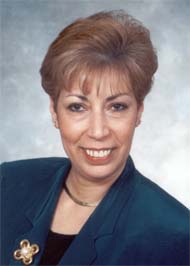 If you are ever looking at photos from a Century 21 Cedarcrest event, chances are, you're seeing the work of Pat Popola, an ace photographer who's also an ace REALTOR®—and has been for 25 years. Having started in 1992 with the Century 21 system, she is now celebrating her 25th anniversary in the business. Pat joined the Century 21 Cedarcrest Realty office in 2011, having worked previously with broker owner John Sass in other locations.
Pat serves home buyers and sellers in Bergen, Essex, Morris, Passaic, and Union counties. Prior to working in real estate, Pat was a marketing & sales analyst for a computer company and later, became the client service manager for ADP. However, seeking the flexibility to raise her children, she left the corporate world to go into real estate. We're glad she did!
A Passaic County native and resident of Roseland, Pat is very knowledgeable about the area. She puts her prior experience in marketing and sales analysis to good use at Century 21 Cedarcrest, as she carefully markets the properties she lists. She especially enjoys matching people with the right properties for where they are in their lives—from that first home to the "mature" move later in life.
"After doing this for so many years, I've found that people need different lifestyles and homes for different stages of their lives. Marketing properties helps my clients move on to their next lifestyle, their next phase, which I find so satisfying."
Pat has a lifelong love of photography and uses her excellent photo skills to chronicle many of Century 21 Cedarcrest's special events and gatherings. She is also our office advocate for Easter Seals, a charity supported by the Century 21 system. She coordinates our participation every year in the annual Easter Seals Walk with Me fundraiser at MetLife Stadium in East Rutherford, NJ.
Like many other agents in our office, Pat finds value in the on-site training and development at Century 21 Cedarcrest. "No matter how many years you're in the business, as rules and regulations change, our in-house education offerings stay abreast of those changes, to make sure we are always on top of our game," she says.
Standing by her credo of "customer service is my business," Pat has cultivated an impressive list of vendors and professionals that support her clients' needs, from plumbers and electricians to attorneys and mortgage specialists. For example, when a pipe broke in a home the day before the closing walk-through, she was able to get a plumber in to fix the problem in time so the deal went off without a hitch.
In her 25 years in real estate, it's safe to say that Pat has also developed an impressive following; one client has done 12 transactions with her over the years, and even though he now lives in Florida, he continues to send her client referrals here in New Jersey. In addition, she has a new generation of customers.
"My past clients send me their grown children to purchase their first home because they trust me and my ethics," she notes.
Pat has won numerous awards for sales and service throughout her career. You can read more about Pat's recognitions from Century 21 and her real estate industry affiliations and credentials on her team bio page at https://century21cedarcrest.com/our-team/patricia-popola-realtor-essex-county-nj/