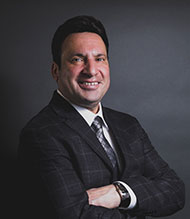 Bruno Marino, Jr. has grown up in the Century 21 system, the son of a former franchise owner in a busy Belleville, NJ office. Bruno joined his father and mother, who was the agency's bookkeeper, after graduating college in 1985 and has been an award-winning real estate professional ever since.
Although his original career plans out of college did not include real estate, his father asked Bruno to join him in the agency, Century 21 Homes Thru Us. He decided to go for his license, passed the test, and began making a name for himself in Essex County real estate in October 1985.
"We were one of the first franchises in the area," said Bruno. "We used to wear the gold Century 21 jackets. They certainly stood out but they made a difference, people noticed."
Over the years, Bruno worked side by side with his parents, until his father decided to retire. He subsequently joined Cedarcrest Realty in June 2013.
"Bruno is a consummate professional, a Quality Service award recipient year after year and is loved by all," said John Sass, broker owner of Century 21 Cedarcrest Realty. "We are so fortunate to have him on our team."
Since joining Century 21 Cedarcrest, Bruno has been a recipient of the Century 21 Centurion Award, the system's highest honor, a Quality Service Pinnacle awardee, and he has been recognized many times for his high production levels. He is also a past REALTOR® of the Year Award winner and a Distinguished Sales Club Award member. In addition, Bruno is a member of the Graduate Realtor Institute* (GRI), a Certified Residential Specialist (CRS), and a member of the NJ Association of Realtors.He works primarily with first-time home buyers as well as seniors who are selling their homes to downsize, and adult children who are handling their parents' estates and selling a home.
When asked to what he attributes his success over the past 32+ years, Bruno says that "99 percent of my business is from past customers. The Century 21 system was built on the golden rule. I was trained that you always treat people right and it comes back to you. A favorite quote of mine is 'People don't care about how much you know until they know how much you care.' I'm one of those guys who cares."
This is borne out by the fact that now, Bruno is working on next-generation customers. "I remember when my clients' children were little, walking around as I was showing the parents a house. Now I'm selling those children their houses; I never thought I'd do that!"
He believes that those referrals are a result of his approach to real estate, which comes from the life lessons he's learned about what's truly important.
"Having helped take care of my mother, watching out for my father, seeing family come together to support each other—that's what's it's all about. That commitment that we had for each other is something I bring to my work every day. To be successful in real estate, you have to understand that it's a long-term commitment; and you need to be honest and open with everyone you deal with. If you treat everyone fairly, it keeps you in business as long as you want to be."
When asked what he enjoys most about real estate, he says, "When you help someone and they're thankful, you want to do it again. That's what keeps me going every day."