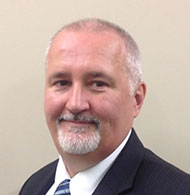 Patrick Smith has served in the U.S. Navy as a hospital corpsman, worked for various retail establishments, sold cars at dealerships, and provided customer service at the MetLife Stadium. His multitude of early work experiences and broad skills were all rooted in his love for helping others, which guided him to becoming a real estate agent.
Pat found his love for real estate by mistake. He enrolled in a real estate licensing course with his mother to spend time with her and coach her through the material; they both passed the exam. Engaged to be married, working long hours in retail, Patrick realized it was time for a career change and took a chance on his new real estate license. It didn't take him long to fall in love with his choice.
"I cannot imagine doing anything else," he says. "No two days are ever alike and each one is an adventure."
A resident of Bloomfield, Pat has been helping residential real estate customers in Essex and Passaic counties for approximately 25 years, all within the Century 21 system. Patrick joined Century 21 Cedarcrest Realty about three years ago for one reason: broker owner John Sass.
"John is a people person with great understanding and a keen ability to train others," says Pat. "The family atmosphere we enjoy in our office and everything that makes Cedarcrest Realty what it is, is a direct reflection of John."
Today, Pat specializes in working with homeowners dealing with short sales. This allows him to help people going through hard times to reach their ideal end goal.
He works closely with the banks to arrive at a sales figure the lender will accept, noting that short sales have a much longer closing process than typical transactions because of the negotiating these transactions entail. He is accustomed to working in divorce situations as well as estate sales, balancing the competing interests of multiple parties to make sure the contract gets signed. He is also involved in commercial work with multifamily rental and investment properties.
Pat's hard work has paid off in many ways. He is a member of the National Association of Realtors and a New Jersey Association of Realtors Circle of Excellence multi-year award winner, and he has acquired the E-Pro for Realtors and Certified Negotiator designations, and the Military Relocation Professional and Short Sales and Foreclosure Resource certifications.
When asked for advice to new real estate agents and what he values about his career, Pat says that he values the flexibility. "As a real estate agent your sales will fluctuate, so you must become an expert at budgeting. However, you also have the option to create the availability in your schedule to be with your children; for me as a dad, that's my favorite job of all."