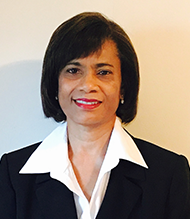 For Claudette Seide, who recently joined Century 21 Cedarcrest, service to others has always been at the foundation of her life—reflected in her passion for helping people find their perfect home as a real estate agent.
Claudette had been working at another real estate company for four years, and decided to make a career move to Century 21 Cedarcrest for its global exposure and access to the latest technology, tools, and data to help her more effectively market her listings. She says she found so much more.
"I wanted an office that offered stability and opportunity for growth; one with a comfortable working atmosphere, which I felt right away. I was also looking for an agency that fostered strong working relationships—among the agents and between agents and management—which I was not finding elsewhere. (Broker owner) John Sass made me feel so comfortable right from the beginning and (director of career development) Susan Mazzetta was wonderful. When you walk in here, you feel an immediate sense of belonging."
She was also attracted to Century 21 Cedarcrest's award-winning history for production and service. "That's where you want to be—with the best, with a company that's thriving, which in turn will help me grow my book of business." A big factor in her growing business is her skill at negotiating; Claudette is adept at helping her customers buy and sell their homes at the best price, making sure they receive the best service and value in every transaction.
In her prior professional life, Claudette was a healthcare professional in various disciplines, including as an EKG and phlebotomy technician, for over 20 years. She is also certified in medical coding and billing, is licensed to sell life insurance, and is a notary public. All of these endeavors have helped Claudette develop a vast professional network.
Serving others is a big part of her personal life, too. Claudette does ministry work in her church, helping at-risk children locally and abroad. She has traveled to Guatemala to help children escape lives of desperation and poverty, and her ministry partners with World Mission orphanage and other groups to help develop churches and schools, and shelter and educate children. The Bloomfield resident also mentors area high school girls who need a positive role model in their lives.
Claudette is a member of the National Association of REALTORS®, the Passaic County Board of REALTORS, and the Garden State and New Jersey MLS; she works in Essex County and surrounding areas. "Wherever clients need service, it's my pleasure to help guide them through the process of buying or selling a home."