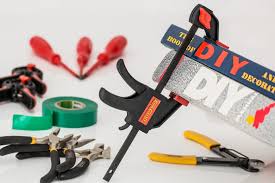 In northeast New Jersey where our offices are located, snow, ice and cold temperatures make outdoor renovation and home improvement projects unlikely in the winter. However, there are some projects you can do now to get your home ready for an early spring showing, or to beautify and update your home for your pleasure.
If your project requires a contractor or home improvement specialist, you may be able to take advantage of these professionals' off season in terms of scheduling and rates., before they get into the spring hustle.
TIP: Remember to check your municipality regarding which kinds of projects require permits from the building department and build that into your timeline.
Paint and accessories
Painting your home's interior is a great indoor project and instantly refreshes rooms (we recommend you choose light neutral tones if your home is going on the market). After you're done painting, you might be inspired to change out carpeting or area rugs, add toss pillows in new colors, or hang new drapes in coordinating colors.
Bathroom or kitchen remodel
Whether you're considering cosmetic changes such as new kitchen counters and cabinets, or a new bathroom vanity, or a more large-scale renovation, remodeling will bring new life to your home. A full kitchen renovation may not pay off in terms of sale price, since tastes and lifestyles differ, but appliance upgrades, freshening up cabinetry, and new lighting are great ways to update a kitchen.
A popular bathroom upgrade is to replace the traditional showerhead with a spa-style showerhead that offer a more luxurious shower experience. Handheld shower heads are also a great (and less expensive) shower upgrade. If you're going for a full bathroom remodel, heated floors, overhead heat lamp, and heated towel bars are other luxuries to consider including.
Even low-cost updates, such as painting walls a new color or adding a colorful backsplash can perk up these spaces and add value to your home. If you're prepping your home for sale, these changes will also give you new ideas for real estate staging.
Weatherproofing
There are many ways to make your home more energy efficient and comfortable, from adding insulation to walls or the attic to sealing up cracks and caulking around windows. Even your high-hat lighting cans can be an entry point for cold or hot air. Replacing old exterior doors with insulated models will also "tighten the envelope." Installing smart thermostats also help control energy costs. A more expensive project with long-term benefits is to replace old windows with top-quality energy-efficient windows.
Organize the garage
Grab a jacket and get out there to organize your gardening, snow and hand tools. Hang wall units made specially for holding and hanging these items, and shelves above or in front of vehicles to stack boxes, cans and large objects. If you have a workbench, hang a peg board for hand tools and store large items underneath the table. Clean out what you no longer need (including old boxes of stuff that came with you from the last move).
Prune and nourish your trees
OK, this one's outdoors . . . but late winter is a great time to trim trees and shrubs before the spring bloom starts. The bare limbs give you clear visibility and because the trees and shrubs are dormant, they are less likely to attract insects or disease. This is also a time to add fertilizer in preparation for spring. Take time now to plan out any landscaping updates as well.
Install a security system
From smart doorbells to connected alarms, these products will keep your family and belongings safer and are a great selling point to prospective buyers.
Finish the basement
This is a highly worthwhile project, providing extra (and insulated) workspace, storage, a playroom or entertainment area for your family-even a guest bedroom depending on the home's structure. A finished basement also increases your home's value. It's like adding on a room without breaking ground.
At CENTURY 21 Cedarcrest Realty, our sales associates will review your home improvement plans or discuss timely projects that make good sense to handle right now. Contact us for questions about listing your North Jersey real estate.