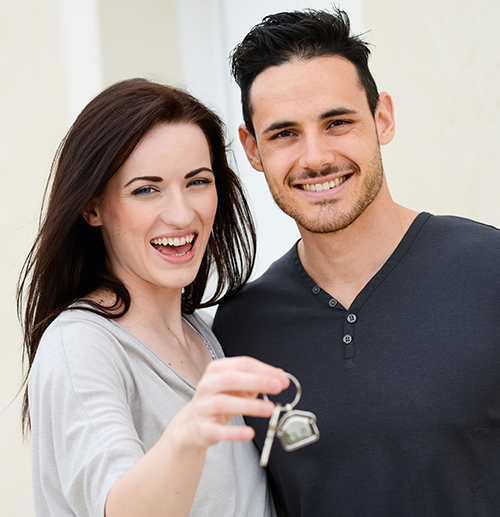 You've been renting an apartment or house but now you're thinking about buying your first home in North Jersey. There are many considerations for first-time home buyers—from determining your budget to locating your target neighborhoods.
Entering the real estate market can be exciting—and for first-time buyers, a bit daunting (we promise it gets easier after your first home purchase!). It's no secret that we live in an expensive part of the country with high real estate taxes. But don't let that deter you from finding a great starter home in Bergen, Essex, Morris, or Passaic counties (or beyond). There are many wonderful towns and homes in all price ranges.
Let's break it down for you.
Considerations for first-time home buyers
Budget – determining your home-buying budget will then determine many other factors involved in your decision—size of the house, neighborhood/town, type of mortgage, and more. The sale price of any home is not the only cost consideration—there will be approximate monthly mortgage payments, real estate taxes, and utility costs. In the case of a condominium or townhouse community, common area charges and/or homeowner association (HOA) fees must be included. Your real estate agent can go over all the typical expenses involved, and help you formulate a comfortable working budget.
Settling on a budget will lead you to the next steps in the house hunt. Knowing what you can comfortably afford will help you zero in on certain towns or areas, and the type of house in your budget. Choosing the area and type of home are highly subjective decisions and many criteria play into it. For example:

Do you prefer urban, suburban, or more rural communities?
Do you need bus or rail availability, or access to highways?
Is the public school system important to you if you plan to raise children there?
What features are must-haves vs. want-to-have in the home?
A fixer-upper in an urban location may be right for you—if you have the funds to invest in the needed renovations or can tackle those yourself.
Perhaps a smaller house in a desirable town is a great starter home, with room to expand or move up in later years.
Or maybe, despite renting all those years, you've socked away a hefty amount for a down payment and your income supports a jumbo mortgage on a big house on a large piece of land. Go for it!

Our Cedarcrest Realty associates can provide valuable information about the towns in the counties we serve, with relevant tax rate figures, the town amenities (recreation facilities, programming for residents, shopping, and dining options) and what your local real estate taxes cover (such as garbage and recycling pickup). Your agent will also provide the comparative sales analyses that will help you arrive at a competitive offer price.

Mortgage pre-approval – at CENTURY 21 Cedarcrest Realty, we strongly recommend (especially in the crowded North Jersey real estate market) to get pre-approved for a mortgage (not just pre-qualified). A lender's pre-approval letter, while not a guarantee of a loan, is a commitment by the lender to a certain amount (pending appraisal). This shows you are serious about making an offer, as it is a more rigorous process than pre-qualification.

About that mortgage: Having a strong credit score will help you qualify for a favorable program, so it's important to know your credit score and take steps to improve it if necessary. Review your finances to see how you can save as much as possible (while also meeting your existing financial obligations, of course), and assess where you can cut if necessary. The traditional down payment is 20% of the purchase price but there are programs available for home buyers who have less set aside for the down payment.

The offer – once you find the right house, your real estate agent will help you negotiate an offer and guide you through the next steps once your offer is accepted. There are a lot of them! There will be certain disclosures to consider and items you may want repaired before the sale (or use as a bargaining tool if you agree to handle those once the sale is completed). There will be a home inspection, appraisal, title search, and mortgage approvals. Your Cedarcrest agent will also explain the closing costs associated with your transaction so you can be prepared for everything in that exciting home stretch.
Your real estate agent at CENTURY 21 Cedarcest Realty will walk you through the entire home buying process, and provide guidance at each step. Our team also has many in-office resources as well as trusted professionals in related fields such as mortgage lenders and home inspectors. The New Jersey Housing and Mortgage Finance Agency has a helpful guide with lots of information about what to expect during your first-time home search, and our specialists in North Jersey real estate are here to help. Call our Caldwell office at 973-228-1050 or in Little Falls at 973-364-1111 to get started on your home-buying journey.