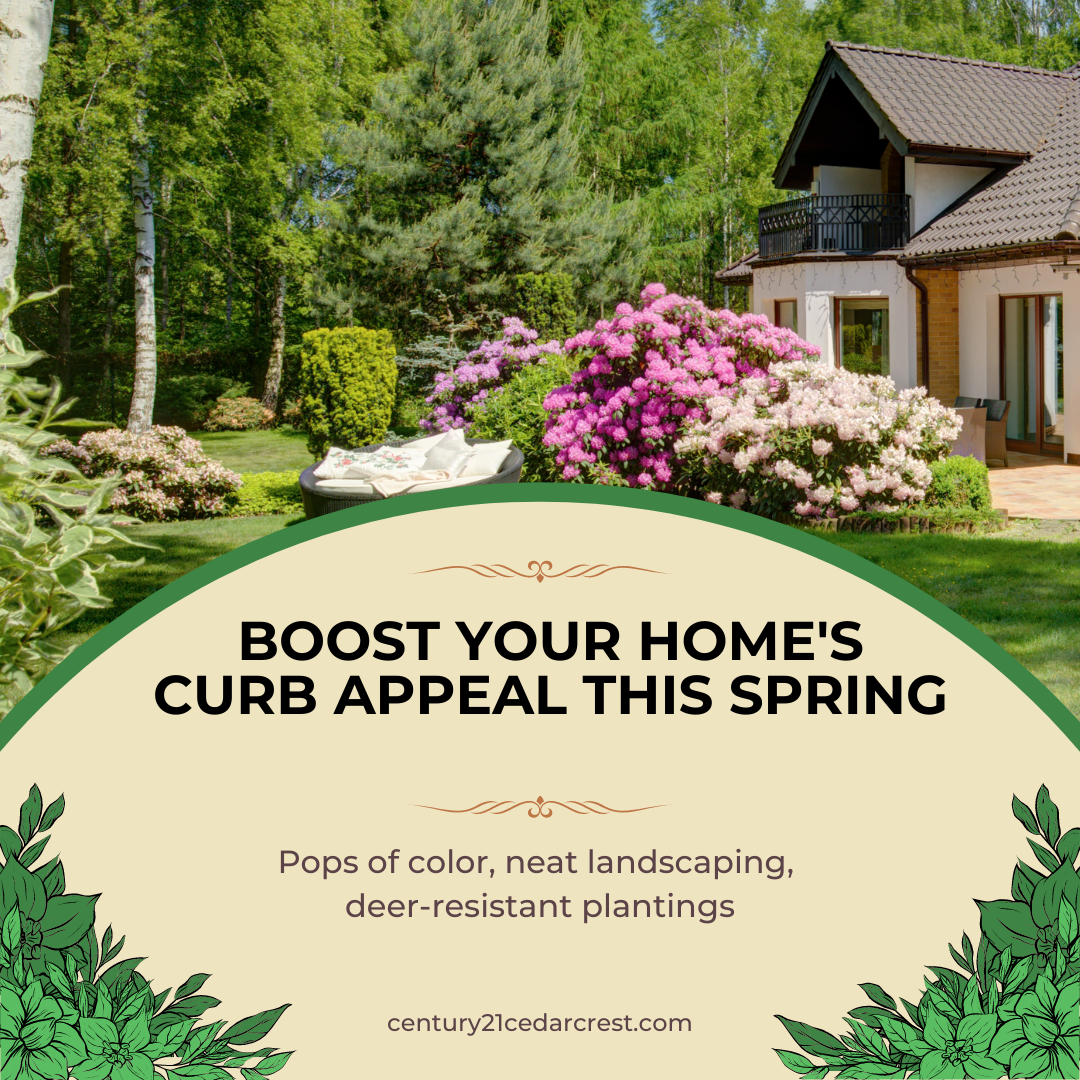 Ah, the merry month of May when all those April showers bring May flowers. It's planting and gardening time in northern NJ!
Beautiful landscaping creates awesome curb appeal that your neighbors and potential home buyers will enjoy looking at. And as a North Jersey homeowner, you'll love driving up to your home and seeing lush plantings and colorful flowers, or stepping out into your backyard where you've created a landscaped oasis.
Although the New Jersey real estate market is still super-hot, it's still important to make your property as attractive as possible to buyers—while also deterring hungry deer who roam many of our North Jersey suburban towns. Here are some landscaping tips to boost curb appeal and reduce deer appeal.
Spring planting for optimal color and beauty
Most flowers bloom in mid-spring and there is plenty of late-spring color to enjoy in North Jersey. Later bloomers include lilacs, mountain laurels, and hawthorns.
If you like tending a vegetable garden and have a sunny spot, it's time to get your veggies on—and harvest them during the summer into the fall. Corn, melons, squash, beans, peas, carrots and radishes can be planted in May; greens may still be planted (spinach, lettuce). And let's not forget those Jersey tomatoes!
Get the green going
If you use a landscaping company, talk to your contractor about how to keep your green grass healthy. You may need to plant a different variety of grass depending on your property's soil and sun conditions. Watering and feeding your lawn is important, of course. In addition to traditional fertilizers, there are organic options that don't rely on harmful chemicals to nourish your lawn. Edge the grass around sidewalks, paths, and garden beds to keep it neat.
Pop the color
Add fresh greenery, bushes with colored leaves or flowering shrubs to your garden beds. Hanging plants on the porch add a colorful touch as do planters near your doorway, around the pool, or on the patio. Laying mulch down in the garden beds also adds color (shades of brown, black) and helps keep in the moisture. You can plant flowers around standalone trees, and add brick or stone borders to dress up your beds.
Add planters with seasonal flowers around your patio, porch, and under the windows.
Tactics for keeping deer out of your garden bed
Many NJ homeowners want to take the natural route and avoid chemical deer sprays and repellents. Or they don't want to install (and see) deer fencing around their shrubs. Deer are easily startled, so hanging wind chimes or placing wind spinners around garden can help, as will a motion-activated water sprinkler to scare them away.
You can use botanical solutions as well. Deer do not like strong fragrances. For this reason, many homeowners:
Sprinkle aromatic spices on their plantings
Tie scented bar soap around their gardens
Plant aromatic perennial herbs throughout the garden such as thyme, mint, lavender, tarragon, chives, sage, and rosemary
Plant a deer-resistant wildflower mix
Use a little chemical-free repellent (and fertilizer) such as blood meal or fish emulsion
Deer-resistant plants
There is an extensive array of deer-resistant plants available in New Jersey, but they are not all surefire solutions and may not fully deter deer. Aromatic plants and shrubs with thorn-like leaves will help keep them away. Rutgers University has compiled a comprehensive list of plants, rated from A to D, depending on how frequently they may appear on deer menus (and be destroyed). There are annuals and perennials (shade and sun varieties), ornamental grasses, groundcover, and shrubs.
Get ready to show your home
If you're listing your home on the real estate market, and you've completed your curb-appeal preparations, contact CENTURY 21 Cedarcrest Realty. We'll market your home to buyers who are ready, pre-approved, and anxious to continue the beautiful work you've done. We're experts in Essex County and Passaic County real estate, and work with home buyers and sellers throughout northern NJ. We'll guide you through every step of the transaction. And your real estate associate might even bring you flowers to celebrate your closing . . . or a beautiful plant for your next home.