There are many reasons and paths that people take to become real estate agents. At CENTURY 21 Cedarcrest Realty, we have agents who range from still in college to those enjoying second (or third) careers. Our agents come from interesting and diverse professional and personal backgrounds, like two of our newer associates, Eric Pavan and Khaled "Jay" Basuf.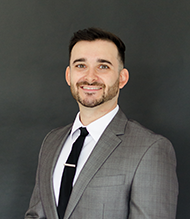 Eric Pavan
Eric joined Cedarcrest Realty in September with a strong background in customer service, having been a customer success manager for a company that handled AT&T enterprise accounts. Eric's father was a real estate professional so when it was time for a career change, he decided to attend real estate school, take the exam, and dive in.
His report to date: "So far, so good. This fits nicely with my customer service background and I like that I can make my own hours."
As a real estate newcomer, Eric has been working closely in our Caldwell office with Dennis DiSabato, our sales manager, which he said is a big reason why he chose to join CENTURY 21 Cedarcrest. "This agency offered me support that others did not, such as training and mentorship from Dennis and having all the tech tools available to help me build my book of business," said Eric.
He is becoming adept at the CRM and other cloud-based tools we use in our offices and is a big fan of 21Online, CENTURY 21 Real Estate's robust content and marketing platform. "There is so much content there, I love that. I'm using it to build my prospecting list and plan out my activities from there," he said.
The former Eagle Scout is also finding that his commitment to honesty and integrity is put to work every day for his growing client list.
"Succeeding in real estate means working hard every day. My goal is to I bring my best to every transaction, inform my clients, and leave them smiling."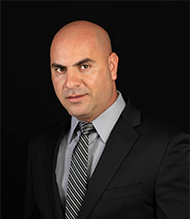 Jay Basuf
Jay has been a long-time real estate investor and decided that adding real estate agent to his work portfolio made good sense. He got his license in September and has been working out of our Little Falls office. He also owned and operated a successful lunch truck business for 20 years; while he no longer needs to get up at 3:30 a.m., he understands hard work and service get you where you want to go.
Twelve years ago, Jay decided to buy distressed homes, and fix up and sell them as a side business; his success with that endeavor got him thinking about real estate sales from the agent side.
"With my knowledge about and experience in rental property investing, I look beyond the number of rooms or cosmetic condition of a home. I'm able to provide details about a property to prospective buyers such as total square footage, the water/sewage system, age of the heating system, and other important information my clients should have," said Jay.
Jay has been working on building his clientele and likes the flexibility that a real estate career provides, enabling him to spend more time with his family, which he couldn't do as much with his former business. "I can hustle without making myself crazy," he said.
Like Eric, he is a fan of 21Online and especially the MLS services we use. Jay knows the technology is important but when it comes to working with home buyers and sellers, he prefers personal contact, and stays in touch by phone or gets outdoors to work an area. "I love to hustle and be outside. The best thing you can do in real estate is to take a break and get outside," he noted.
At CENTURY 21 Cedarcrest Realty, we're always looking to add motivated people to our team who understand that hustle and strong interpersonal skills are foundations for a successful real estate career. If you're thinking of going into real estate or are looking to make a change from your current situation, contact broker owner John Sass at johnsassc21re@gmail.com.