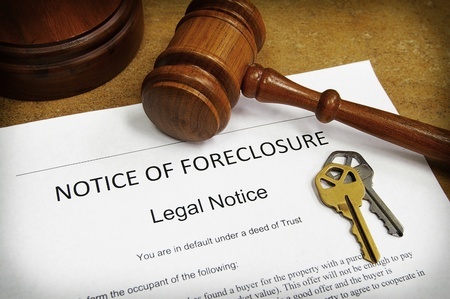 What Happens if I'm Renting and My Landlord Goes into Foreclosure?
In the past, if you were renting and your landlord went into foreclosure, you could be immediately forced out of the home. However, times have changed and new laws make it possible for renters to live out their lease in most cases. In other cases, they may be able to recover costs from the original landlord.
Talk with Your Landlord
If your landlord goes into foreclosure and actually tells you about it, you may need to discuss other things, like utilities. If your landlord was taking care of the utilities as part of your rental agreement, you need to find out if that is still going to happen. Someone who isn't making their house payment with your rent money may not be paying the utilities either. Try to get as much information as you can so you are able to plan ahead for the safety of your own family.
Thank You Obama
In 2009, President Obama signed an act to protect tenants from having their lives turned upside down if their landlord went into foreclosure. The Protecting Tenants and Foreclosure Act of 2009 was designed to give tenants a chance to recover from what to them may be an abrupt change.
The act basically states that tenants can live out their original lease undisturbed. Since some tenants live on a month to month lease, this could have meant that they had 30 days to move out. However, the act gives them 90 days to find a new home. The only exception is when someone buys the property with the intent to live there. In such cases, the tenant has 90 days, regardless of whether they live on a month to month lease or not.
Recovering Costs
Aside from potentially having to deal with a higher rent, moving itself is expensive. You may need to travel to investigate a potential rental, pay application fees, and rent a truck to move your furnishings. Renters can sometimes recover some of those costs by taking their original landlord to small claims court.
Naturally, while you are living in the rental, all of the details of the lease and your responsibilities still stand. It may be even more important to follow the lease to the letter in order to avoid being evicted because of your own folly. If this happens, you won't be able to recover costs from your former landlord because you will have to move due to your own behavior and the details of the lease. Talk to a real estate agent about your opens if you do need to move. It may just be time to buy your own home!