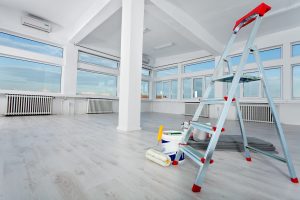 CENTURY 21 Cedarcrest is expanding and—if all goes well—we hope to move into a second office in the Township of Little Falls, in Passaic County. The last couple of months have been hectic, to say the least, with choosing a location and then dealing with all the aspects of the build out in our new space.
John Sass, broker owner of Cedarcrest Realty, shares these tips for companies that are moving into a new commercial space, and are undergoing renovation.
Have a plan. Know in advance exactly how you envision the space, from its design to how it will be used and by whom. Plan down to the smallest details, with the help of your design and construction team. It might sound crazy but even the number and placement of electrical outlets and Wi-Fi connections will make a difference for your staff—so think about your number of employees, their jobs, where customers will be greeted or wait for service.

For example, if it's a retail location, your selling space is key; your back office, less so. Are you opening a restaurant? There is so much that goes into planning your back of the house as well as front of the house.
Make sure, as part of your plan, that you hire professionals with experience in your type of commercial space or who have worked with the municipality before (always a good idea when dealing with a building department) or with your landlord.
Also plan for delays that you cannot control (whether it's a scheduling issue, equipment that has not arrived when expected, weather-related delays, etc.). No matter how well prepared you are, your project will take three times longer than anticipated (and probably cost twice as much!).

Check with the town for all requirement and permitted uses for the property. Find out exactly which permits you'll be required to take out, how you may use the property (is it retail only or can you put an office in that storefront?), and what will trigger a variance hearing with the zoning board. Ask the building department what it requires in terms of drawings or anything else that could catch you off guard during construction (and hold up the project).
Get contractor estimates in writing. Make sure your general contractor (or any trades you hire) put their estimates in writing and commit to them. Get their timelines for getting your work down as well (do they have other jobs that will make it difficult for them to get to your project?)

Be sure they are all licensed and insured and that those numbers are readily available to you.
Before you sign, check references, their ratings, and see if there are any complaints against them at the NJ Division of Consumer Affairs.

Maintain good communication with all parties. Keep an open line of communication with your architect, interior designer or space planner, the contractor, and the landlord. When everyone knows what's going on, things will progress more smoothly, problems will be solved more efficiently, and you'll avoid nasty surprises.
Understand your landlord's expectations. Bottom line—it's the landlord's building, not yours. The landlord expects the renovation work or installations to be completed in a timely fashion, and performed in accordance with the property. You cannot alter something that does not belong to you without the landlord signing off on the plan. Check your lease for any build out requirements or restrictions for both interior and, if applicable, exterior work. This includes awnings and signage.
Above all else, stay calm and remain flexible. Moving into a new commercial space is exciting but a lot will happen between finding the right location, signing the lease, and move-in day—even when there is little work to be done (perhaps just a coat of fresh paint or new flooring in an office). Even as a certified commercial specialist, we are tackling the challenges of building out a new office every day!