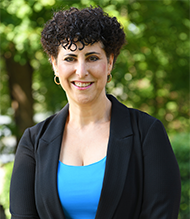 Jill Savva brings years of training experience and a vast knowledge of the NJ real estate market to CENTURY 21 Cedarcrest Realty, where she is collaborating with broker owner John Sass on growing our company by recruiting, developing, and mentoring new real estate agents.
"John is a great guy who you can trust," said Jill. "His office is like a family and it's a great, intimate environment. I'm glad to be here and put my years of experience to good use with our new associates."
A long-time real estate professional and broker associate, Jill has managed real estate offices and has trained new agents throughout the past 12 years. At Cedarcrest Realty, she shares her expertise with new agents as a field trainer, accompanying them on appointments to guide them through their early transactions. She assists with recruiting and onboarding new real estate agents, helps them secure and market listings, and takes them through the entire sales process. New agents from both our offices now have someone with them on appointments to strengthen their training in real time, and show them how to leverage the corporate marketing resources. The feedback has been very positive.
"It's great having Jill here to provide such tremendous value to our newer real estate agents," said Sass. "To now have this level of hands-on training and mentoring is making such a big difference in terms of their confidence level and ability to apply what they're learning in our classroom to the entire sales process with our customers."
Jill's real estate career began when she was a young adult. She had an insurance license and enjoyed selling, and used to manage restaurants, having grown up in a family that owned a deli. When a friend suggested she explore real estate, she jumped right in and as she says, "I never looked back." That was 30 years ago and her passion for the real estate field is going strong.
Of working with home buyers and sellers, Jill said, "I especially enjoy helping mature homeowners organize and manage the whole process as they prepare to sell their homes. They are often nervous and need someone to support them. I also like working with younger professionals who are focused buyers with a healthy budget. They know what they want and where they want it; my job is to find it for them which is a quite different transaction."
In addition, she is co-owner with her husband of a residential contracting company, providing her with additional expertise in helping sellers prepare and stage their homes for sale—from cosmetic updates and repairs to furniture placement and home accessories.
A lifelong New Jersey resident, Jill played soccer, softball and basketball in high school and college, and is an avid bowler; she has also coached basketball and softball, and umpired and refereed for high school sports. To say she is a team player is an understatement!
"I like seeing other agents do well—it's good for everyone. I believe if you work ethically and help each other, the money will come and everyone succeeds," she said. "At CENTURY 21 Cedarcrest, I can be hands on, help other agents get ahead, and I feel like I'm part of something."