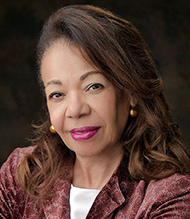 Adrienne Wheeler is used to getting things done. As a former network television producer, she appreciates timelines, deadlines, accountability, and challenges. Having worked with some of the biggest names in TV, she knows the importance of honesty, integrity, and confidentiality. These are some of the factors that are making her a successful commercial and investment real estate specialist at Century 21 Cedarcrest Realty.
Adrienne joined Cedarcrest in January 2017 about a year into her real estate career; she says that after meeting broker owner John Sass, she knew she'd found the right fit.
"I knew right away that this was the best place for me. I needed an agency whose broker invested in his agents. From our first meeting, I felt I could become successful under John's tutelage."
With more than 49,000 real estate agents in northern New Jersey alone, Adrienne knew she had to focus on a particular sector that would lend itself to the skills she had from producing. After researching and talking to people in the commercial part of the business, she focused her efforts in that direction.
Working with real estate investors, developers, and sellers in Essex County, Adrienne focuses mostly on multi-family properties, warehouses, and industrial buildings. She is building a clientele in Newark, which is experiencing increased interest in real estate, as well as in Bayonne, which is also undergoing renewal and new development. She "produces" every commercial real estate transaction, prioritizing her clients' goals and listings, keeping all the players involved and all the pieces moving ahead, as she ferries each listing to a completed sale.
Part of producing those transactions is keeping both the buyer's and seller's attorneys in the loop throughout the process and staying a step ahead of all parties to make sure everyone is prepared at all times. She helps the other agents through the transaction as well to make sure it goes through smoothly and on time. She also believes that her commitment to client confidentiality, business savvy, and her personal and professional integrity have helped her grow her book of business.
"This is an area of business that requires hours of preparation and leg work, and a strong contact list. I also know it's all in the marketing; you have to know how to write a story about what you're selling."
Adrienne's process includes doing thorough research, canvassing the area, and providing an executive summary of the properties to her buyers. "I'm a bottom line person committed to a positive outcome; I go into each transaction fully prepared and ready for any objection."
Her efforts and attention to detail result in getting to the closing table in a shorter-than-average sales cycle. Adrienne reports that every one of her commercial and residential transactions has gotten multiple offers within four to six weeks, which is especially unusual in commercial real estate.
A resident of Essex Fells, Adrienne also does residential real estate in Essex County, working with buyers and sellers. But, she likes the challenge of working in commercial and investment real estate, which she admits is a tougher end of the business; she proudly points out that only 37 percent of all commercial real estate agents are women. She is a member of CoStar, which offers a vast suite of tools and resources for the commercial real estate market, and she continually invests in additional training classes specific to commercial real estate, which she believes is a win-win for both her as a real estate agent and for Century 21 Cedarcrest.
Of the office and its broker owner, Adrienne says that, "Every agency and broker claim to be the best but I have the best right here. John Sass goes above and beyond; he doesn't just talk about what he's going to do, he does it. He supplies me with the tools I need to create my success."