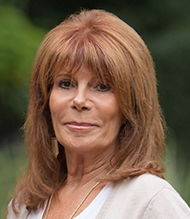 Nancy Scancarella waited until her children were a little older before going to work as a real estate agent . . . and wasted no time making her mark in the field.
That was 27 years ago and since then, the Woodland Park resident—who started her career in another CENTURY 21® office—became a licensed real estate broker and later ran a boutique real estate agency for another company. She joined the CENTURY 21 Cedarcrest Realty team in November 2018.
"I'd had a good experience the first time around with CENTURY 21®, so I was delighted when the opportunity came along to work with John Sass at Cedarcrest Realty. I'm looking forward to building up the new Little Falls office," said Nancy. (At the time of this writing, we are nearly done with the extensive renovations to our new space at 44 Main Street in the heart of Little Falls.)
Nancy loves the energy that many of the younger agents bring to CENTURY 21 Cedarcrest, as well as the training programs and technology that help her to better serve her customers.
"All the new programs are great and the training at Cedarcrest is phenomenal," said Nancy, "especially for seasoned agents who may not adopt new technology as readily. John and Susan Mazzetta (director of training & development) made it so easy to understand, learn, and use."
While she acknowledges that many of today's buyers are doing a lot of research online, Nancy feels that the experience and insights of a real estate agent remain a valuable part of the transaction. For instance, she noted that the information posted on various sites is sometimes inaccurate or out of date, or not pertinent to the area, which can misguide home buyers and sellers.
"Although today's customers are very savvy, it is so important to gain their trust at the outset, and show them what your real estate expertise brings to their home buying or selling experience," said Nancy. "We know the towns—the neighborhoods, schools and taxes—from our own firsthand knowledge as well as from industry resources and tools that are not available to consumers."
Nancy especially loves working with first-time home buyers, whose needs are generally different from others'. "You have to have the patience and willingness to show first-time buyers dozens of houses in many different areas, as they hone in on the type of house they want, the towns they like, and what they can afford," she explained. 'I enjoy nurturing them along the path to home ownership and it's so rewarding when we get to that closing."
Having raised her family in Totowa and having worked before in Little Falls, Nancy really knows Passaic County well. However, she's also worked with home buyers and sellers up through northern Bergen County and throughout Essex County.
As for CENTURY 21 Cedarcrest, Little Falls, Nancy is eager to get into the office and has brought five real estate sales associates with her. "It's a new, modern office in the heart of Little Falls, which is developing into a great little walking downtown," said Nancy. "I'm really excited about our potential here."