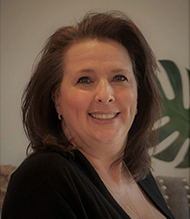 Michelle Christenson loves CENTURY 21® and Little Falls so much, she couldn't stay away! Having worked at another CENTURY 21 office for about 14 years earlier in her career—which had been located in Little Falls—Michelle reached out to John Sass to discuss joining Cedarcrest Realty when she heard about our new Little Falls office. She was more recently with another group, and was eager to rejoin CENTURY 21 and work in Little Falls.
"It's so nice to be back at CENTURY 21," said Michelle, a licensed REALTOR® in New Jersey for 19 years. "The system and support is superior to what is available at competitors, no question. And I'm delighted to be working at Cedarcrest Realty with a great team of real estate agents. Once I talked to John, I knew it was a good fit for me."
Although she and John have not worked together before, their paths have crossed many times in the North Jersey real estate world, and she contacted him when she knew she was ready to make a change. Michelle said she is excited about the opportunities in Passaic County.
"There is a lot of new development in Little Falls, townhouses are going up in the area, and it's an expanding market. Plus, downtown Little Falls is experiencing a resurgence that's been great to see. I really like the area."
Michelle, who lives in Cedar Grove, got into real estate when she was raising her children (who are now grown). As a career, it offered her the opportunity to arrange her schedule to meet family commitments while also meeting her customers' needs. The flexibility has also enabled the lifelong animal lover to volunteer throughout the years with various animal rescue and foster organizations. But in real estate, for Michelle it's all about the people.
"I love working with and helping all the different people I meet, from first-time home buyers to sellers. It's the people aspect that keeps me in this business. Here I am, 19 years later and still loving it. And now that I'm back in Little Falls, I told John that's it, I'm never leaving."