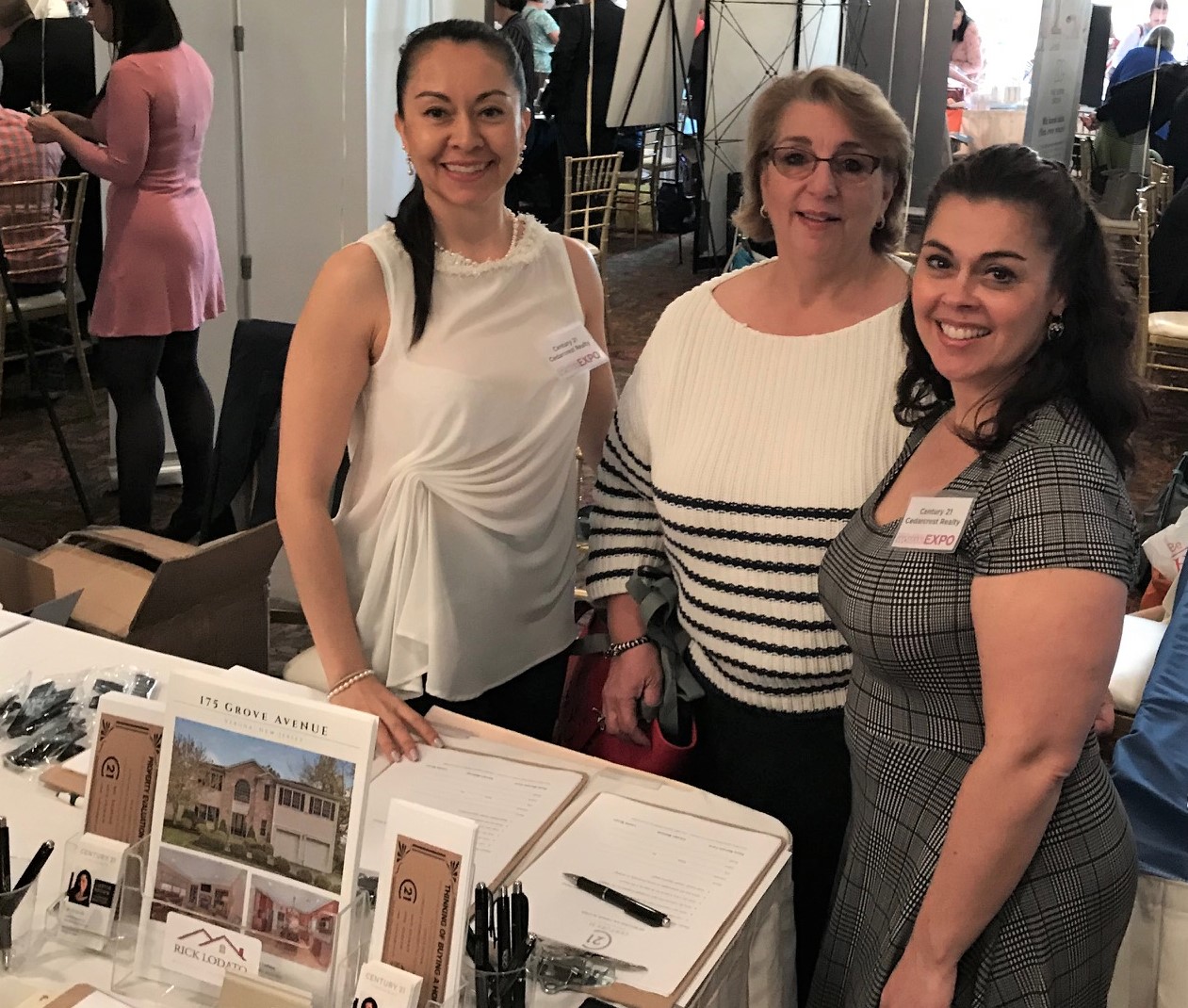 Three of the real estate professionals from CENTURY 21 Cedarcrest Realty recently attended the North Jersey Woman Expo at Mayfair Farms in West Orange. Paula Cano, Carolyn Maloney and Lizette Brown were at our exhibitor table, handing out giveaways (including snacks labeled with their contact information) and chatting it up with attendees about the local real estate market.
This was the third year that Carolyn has represented us at the expo and a first for Paula and Lizette, who left with many leads to follow up on from people who may be planning to buy or sell a home in the area in the foreseeable future. Lizette had information to share about a new listing that had just come in for her team, so the expo provided good marketing exposure for that.
More good exposure came from our gift basket raffle; the basket drew people's attention to our table and many stopped by to leave a business card for the drawing. This provided additional opportunities for our agents to speak to them about what we do at CENTURY 21 Cedarcrest. As it so happens, the woman who won the basket is currently renovating her home in anticipation of putting it on the market. Given that she had a chance to chat with Paula at the show, Paula is now following up about and will meet with her to do a comprehensive market analysis for the house.
When our agents are not at business expos meeting hundreds of people, they are busy cultivating and working listings in other ways. For example, Carolyn and Jacqueline Cabrera, who often work as a team, have visited a condominium community across the street from our Caldwell office to hand out flower and herb seeds, along with information on how to cultivate balcony gardens. They have struck up conversations with condo residents and let residents know about the agency, should they know anyone interested in moving into the area—or if any residents are ready to upsize to a single-family home in northern New Jersey.
Of course, as part of the CENTURY 21® system, our entire team has access to the real estate industry's best sales tools to get our listings in front of more prospects, and help prospective buyers find the types of properties they want and that are worth a look. There is always someone on site in our two offices (Caldwell and Little Falls) to assist by phone or in person during business hours. And we offer flexible open house schedules—such as twilight open houses—that help draw more people at the times they are available to attend.
Whether you're buying or selling . . . on the market for a residential or commercial property . . . CENTURY 21 Cedarcrest Realty is here to help in all ways possible!