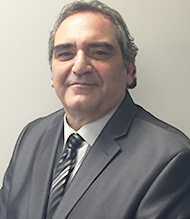 Chris has been working in real estate for over 22 years, after a successful career in home construction. So how did he go from installing siding, windows and roofing to helping people buy and sell their homes?
"My mother used to work at a real estate agency and the broker suggested I get my real estate license," explained Chris. "I took his advice and never looked back." Since that time, Chris has worked primarily in Passaic Valley area—Totowa, Little Falls, and Woodland Park.
Before joining CENTURY 21 Cedarcrest, Chris, who lives in Totowa, worked at several independent and national real estate offices in Passaic County, handling mostly residential transactions. When we opened CENTURY 21 Cedarcrest Realty, Little Falls, he joined our team there.
"I already knew broker owner John Sass, so I knew I'd be joining a strong outfit," said Chris. "Plus, it was very appealing to come into a new office with Cedarcrest's expansion in Passaic County."
He was also attracted to the breadth of training classes CENTURY 21 Cedarcrest provides, for sales associates at all levels of experience. "They offer so much professional development there, with seminars about sales techniques and real estate technology, classes to work towards different designations . . . there's so much available. Plus CENTURY 21 has some great online tools that make it so much easier now to manage our pipeline and transaction process," he added.
Although Chris enjoys helping his clients realize the lifestyle they aspire to through the home buying process, he also enjoys the challenges that the real estate field brings to him as a sales associate. If a client asks about something he doesn't typically run across, he simply gets it handled.
"I'll research the issue and tap my network for the right pros to get the job done. After more than 20 years in real estate, I know that a key to success in this business is to never disappoint your clients, and do whatever it takes to ensure a smooth transaction."
We certainly agree with that credo at CENTURY 21 Cedarcrest Realty!