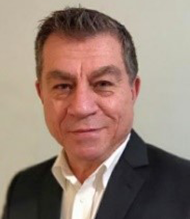 After 30 years in the field of facilities engineering and asset protection, Michael DiVirgilio felt it was time to start a new career. Taking his in-depth experience in commercial and industrial properties, he brings fresh insights into his work today, working with residential and commercial real estate buyers and sellers.
"There are a lot of things I see right away when I walk into a home or a commercial establishment," said Michael. "I've covered many aspects of facilities and property management, so my prior career brings additional skills and knowledge to my real estate clients and the Cedarcrest team." He also has firsthand experience remodeling several homes, so he's always looking for the positives and the potential negatives in a property he's showing.
Michael moved to New Jersey from Florida with his wife back in March and obtained his real estate license in New Jersey and New York in April. (He is also a Florida State licensed community association manager and a New Jersey notary public.) He began his real estate career at a small office in Tenafly but after he and his wife bought a condo in Bloomfield, he looked for an agency closer to home. He'd met Tom Siso, a CENTURY 21 Cedarcrest Realty agent, during the condo-hunting process and Tom introduced him to broker owner, John Sass.
"I really feel like a part of a great family here; the people are fantastic," said Michael, who works out of our Caldwell office. "Cedarcrest Realty is well structured and organized and John and his team care deeply about the clients they serve." Having served in the U.S. Air Force after high school, Michael appreciates the structure at the brokerage. "I'm glad to be in this tight-knit, family-feeling organization." From a large family himself, and with seven kids, it's no wonder that the family feeling at CENTURY 21 Cedarcrest was a pull for him.
Michael said he was drawn to real estate sales because, "It allows me to help people find that perfect home. I love working with people and seeing that expression on their faces when you show them a place that's the right fit. Seeing them light up like that brings me tremendous satisfaction. I've always been about helping people." That helping spirit is reflected in the community service work he and his wife do in soup kitchens and through other charitable endeavors.
He's enjoying learning from the Cedarcrest Realty team and appreciates the ongoing training available in the office. "I have more to learn and there are great people with a plethora of knowledge that they're sharing," he said.