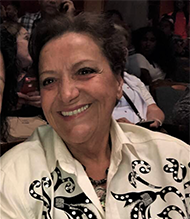 Veteran real estate professional Eugenia France joined Cedarcrest Realty in November 2019 and is already making her mark in terms of transactions at our agency. Eugenia, who came to the U.S. in 1987, has been working in real estate since 1992 and according to broker owner John Sass, "Eugenia's experience really shows. She has already done half a dozen transactions to date, with two currently under contract. She knows the system and comes to work every day ready to get things done. We're delighted to have her on the Cedarcrest team."
And this is with Eugenia, a native of Brazil, spending several weeks visiting family in her home country!
Early in her career, she was at another CENTURY 21 office, working with home buyers and sellers primarily in Belleville, Bloomfield, Glen Ridge, Newark, and Nutley. It was there that she first met John, who at the time was doing training and recruiting for the system. She was most recently with a brokerage in Newark and although she was the top producer there, she was not happy with the work environment and decided to make a move last fall. She came across John's name and contacted him to find out if there were any opportunities at CENTURY 21 Cedarcrest.
As someone who has been self-employed since coming to the States, Eugenia said real estate appealed to her because, "You can make your own schedule and develop a business. I enjoy dealing with people and making them happy when they find the right house—and it feels great when that happens. But it's also a great feeling when those customers refer me to someone else; it means I've done a good job."
Although she's done some commercial real estate work before, Eugenia prefers residential real estate. "You participate more in the residential transaction and I like guiding the contract process, which I didn't get to do as much in commercial deals."
Of her decision to join the Cedarcrest team, she said, "It's a much nicer workplace; people treat each other well, John respects his team, and there are opportunities to grow here." She works in our Caldwell office-and we're glad she's there!