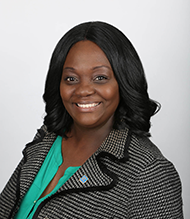 No car? No problem. Chanda Webb, who joined CENTURY 21 Cedarcrest Realty in December 2015, was not going to let the lack of her own car stand in her way of finding success as a real estate agent.
Chanda was working at Essex Community College as an advisor to students transferring into four-year programs, in part creating events that connected students to four-year colleges. Her knack for making matches and connecting people has served her well in real estate.
With her daughter graduated from high school and taking a year of study abroad, Chanda felt it was a good time to explore other careers and income streams, and took the real estate course. She interviewed at Cedarcrest Realty and explained she was without a car at the time. "John Sass, Susan Mazzetta and Dennis DiSabato believed in my potential and gave me a chance; they're all so down to earth and really care. They made a place for me and I worked on building my leads and doing my training in the Caldwell office, which I got to by bus." Since Chanda was still working at the college full-time (she recently left her position in September), she used her vacation and personal days for time off to attend agency meetings and training sessions. Thanks to the real estate technology employed by the CENTURY 21 system, she was able to work remotely as well.
She also got busy by walking her neighborhood and knocking on doors. "Within four months, I had my first listing, just by walking through my community," she said. "Soon after, I got two more listings—even though it took another year before I got a car." She said that friends, homeowners from her listings, and her customers often drove with her to showings; other times, she took public transportation from her Bloomfield home.
She also discovered the power of working a database of contacts.
"I knew many people at the college where I was working, people who cared about and believed in me. I reached out to these connections to ask if they knew anyone looking to buy or sell a home; I got referrals that way and made referrals to other agents as well. Being a connector by profession was helpful, as I was able to get people to help me out and vice versa."
As for why she chose real estate, Chanda said, "If you're a go-getter, real estate is for you. If you want to connect people and help them understand about buying or selling a home, this is the perfect career. I find it so empowering and I'm so glad I was able to do this as a single parent and still be there for my child."
Her daughter, now age 27, got married last year in England. Chanda is grateful that her real estate income enabled her to cover some wedding expenses and join her daughter overseas with family and friends from the U.S. "It felt so good to help my daughter, and know that it was directly from my real estate transactions," said Chanda.
She cites the trainings at CENTURY 21 Cedarcrest as factors in her success as well as the many online tools for helping her market listings and build a book of leads. She's taken full advantage of the technology to create polished, professional brochures and customer guides, find and develop quality leads, and stay in touch with connections about homes on the market with email newsletters. "C21 Online is excellent and all agents should know about and use this great marketing tool," she said.
Chanda is now designated as a seller representative specialist and hopes to one day teach real estate courses. She is working on the required designations to qualify for that. And, she has a car. Good thing, since she said that even through the pandemic, she was still getting referrals, talking to prospects, and began showing houses again in the early summer. Now a full-time real estate agent, she is working hard with our sales manager to execute and meet her sales goals. We are very proud of how far she's come!