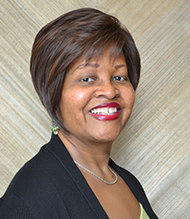 After 30 years of working as a legal secretary and real estate paralegal, Carol Berry—who joined CENTURY 21 Cedarcrest in November 2020—is ready to negotiate on behalf of her customers, review contracts, and help home buyers and sellers enjoy a smooth transaction from start to finish. With many years of direct selling experience as well, she said that the skills she acquired in both fields will help her deliver exceptional service.
"Through my paralegal work, I have experience with the flow of real estate transactions and can help customers understand all the elements of a home buying contract," said Carol.
She said she was always interested in real estate—actually, houses and people—and programs on HGTV about home improvement, buying and selling, and house flipping fueled her interest in becoming a real estate professional. She decided to attend real estate school, passed the exam last October and joined Cedarcrest Realty shortly after that.
"John McKenna, the attorney I worked with at the law firm, put me in touch with a former colleague of Susan Mazzetta at Cedarcrest Realty, who connected me to Susan. I interviewed with her and we stayed in touch for a year. I was delighted that she invited me to come back when I was ready and I did! I interviewed with John Sass last fall; I didn't even think about interviewing anywhere else."
Carol is glad she followed her gut instinct to join CENTURY 21 Cedarcrest Realty, noting how well everything fell into place as she starts her new career.
"The mentoring and training are excellent; I have a wealth of knowledge about real estate at my disposal and the classes cover everything you need to know to be a good real estate agent. The camaraderie here is so nice. Everyone is on the same team and other agents have been so generous about sharing their expertise. Everything about being here has made this midlife transition so much easier."
The mom of a special-needs daughter, Carol knows that patience and empathy are needed to overcome the challenges that arise in life. She also relies on her faith to guide her. As she advances in her real estate career, she will apply those attributes to her work.
"I like to see people achieve their dreams, whether buying a house or a condo. Right now, I'm helping first-time home buyers match desired locations with their budget. Finding the home that makes them happy and meets their needs will take some time and patience. I'm ready with both."