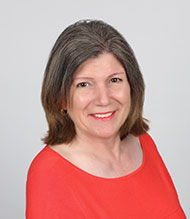 Jo Ann Restrepo has worked in real estate since 1998 and joined CENTURY 21 Cedarcrest Realty in May. You might say she grew up in the business—her mother and aunt were real estate agents for decades, which is how she met broker owner John Sass. Jo Ann used to visit her mother at another CENTURY 21 office where she worked and over time, mom and the other agents talked her into getting into the business.
A long-time Hawthorne resident, Jo Ann works mostly in Passaic and Bergen counties as well as Essex and Morris. Before coming to Cedarcrest Realty, she worked in several Passaic County brokerages. She enjoys working most with buyers and managing the buying process for them.
"Once they make an offer and it's accepted by the seller, I work closely with all the related professionals—home inspectors, attorneys, mortgage brokers—throughout each step of the process, and make sure the deal goes through," said Jo Ann.
Prior to becoming a real estate agent, Jo Ann was a payroll supervisor for construction companies, handling union payrolls and benefits for projects in New York City and New Jersey, some in the billions of dollars. She'd also been an executive secretary, so details, numbers, and integrity count strongly for her when it comes to real estate transactions.
As someone who manages each buyer's journey with care, Jo Ann noted she's also not afraid to express her opinion.
"I deal honestly with people and treat my customers like family. If something comes up during the inspection that concerns me, I will advise buyers about whether or not they should buy the house."
Over the past 20+ years, Jo Ann has seen many changes in the way real estate is transacted. While she acknowledges that technology saves agents time and paper—no more multiple originals of all the paperwork—she prefers the personal touch when it comes to presenting offers to the sellers.
"I like presenting my buyers and telling their story; this is especially helpful when you're in a situation with multiple offers or a bidding war," said Jo Ann. "Electronic filing has streamlined the logistics of the transaction and has changed the way we represent our clients, but for me, real estate is still a personal business and it always will be."
John Sass agrees. "We're delighted to have an agent with so much experience in our core areas join the CENTURY 21 Cedarcrest Realty family," said John. "Jo Ann shares our commitment to great customer service with that personal touch that makes such a difference in how we conduct our business."