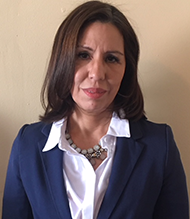 Jackie Cardona of Bloomfield has been at CENTURY 21 Cedarcrest Realty for five years. In that time, she has distinguished herself as an effective real estate agent while holding down a full-time job for an area municipality's building department.
As a dual career agent (working a full-time job while doing real estate part time) she has found a way to balance both jobs and serve her real estate customers with grace and a good measure of time management!
Using past experience to build her business
Jackie got her real estate license many years ago with the idea of having a career she could continue after her retirement. When she began giving her post-retirement plan more thought, she interviewed at Cedarcrest Realty.
"It felt like home at Cedarcrest. It's so comfortable to work with a team where everyone helps each other out. There's a lot of trust between agents and a high level of comfort. Plus, everyone is willing to teach you something if you don't know it," said Jackie.
As a dual career agent, she cannot always make team meetings and on-site trainings. She credits sales manager Dennis DiSabato and Susan Mazzetta for helping fill that gap.
"Dennis is on speed dial for me, and he and Susan are so generous with their field experience," said Jackie. "I learn from their stories of what they've gone through in the business and Dennis provides excellent guidance to make sure more complicated deals work out."
Thanks to her professional experience, Jackie has a great deal of "inside knowledge" when it comes to home buying, selling, and renovation that she applies in her real estate business. At the construction office (where she has been for 16 years), she reads building plans all the time and knows the permitting process. Prior to that position, Jackie was a paralegal for a real estate attorney for 20 years.
With that background, she has developed a book of business with real estate investors seeking distressed properties to "fix and flip." She enjoys a strong referral network within the investor community and often handles both sides of the transaction—selling homes to investors, then selling the renovated homes for them to others, most often in. Clifton, Nutley, and Newark. The secret to her success?
"I love old homes, and ones that need TLC, to see them transformed," said Jackie. "You need to have an eye for that and to see the possibilities. I enjoy presenting those homes to buyers with a 'look what you can do with this' approach." It's an approach she also uses with first-time home buyers, with whom she finds tremendous personal reward when the excitement of finding that perfect first home sets in.
Understanding her customers' needs is key
Regarding her work with real estate investors, Jackie said that "Whenever I see fixer-uppers on the multiple listing services, I do a market analysis of the property and present this to the investor. I have a firm idea of what they will want to put into the rehabbing the property and understand what they're looking for to put in bids. I also know what it will take to perform all the cosmetic or structural renovations. I'm presenting good deals to them in terms of solid properties to renovate and sell at a profit."
Given her full-time job, Jackie is creative about carving out the time to work with her customers. She shows homes in the evenings and on weekends, during her lunch hour, or takes personal time when needed for closings. She is fluent in Spanish, so she can serve the Spanish-speaking community with ease.
When she's not working, working, working, Jackie enjoys spending time with her three grown sons and her five grandchildren.