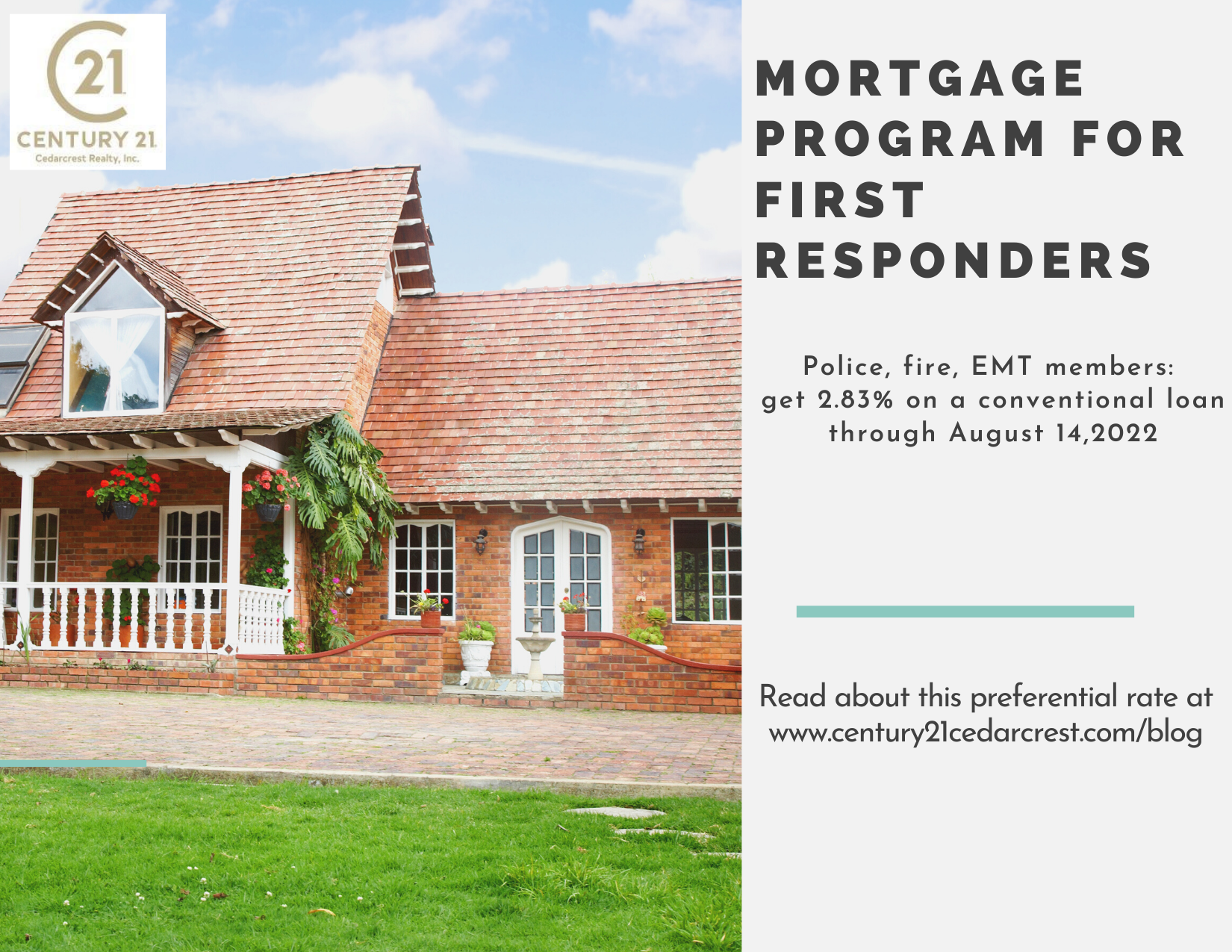 New Jersey police officers and firefighters who are buying a home can take advantage of an excellent mortgage program through the Police and Firemen's Retirement System Mortgage Program. The current rate is only 2.83% (compared to a conventional 30-year mortgage today at 6.699%) so we encourage any first responder who's on the market for a new primary residence to take advantage of this program, which offers highly favorable mortgage interest rates compared to conventional mortgages for the rest of the borrowing public.
Who qualifies?
The mortgages are available to any currently employed member of a New Jersey police, fire, or EMT department who:
Is a member of the Police and Firemen's Retirement System
Has a minimum of one year of creditable service
Has paid into the pension for at least one year
Is buying an owner-occupied house or condo (no investment property or homes larger than a two-family)
The program is backed by the Police and Firemen's Pension Program, underwritten through the State of New Jersey Housing & Mortgage Finance Agency (NJHMFA), and is administered through private lenders.
Low rate for qualified first responders to buy or refinance
This mortgage program offers police, fire, and EMT personnel very favorable rates that are set twice a year. The rate, which is set at only 1% over the 10-year Treasury bill index, is adjusted twice a year; the next reset will be on August 15. It is less than half of a conventional 30-year fixed rate today and will remain much lower than any prevailing rate available in today's market for the foreseeable future.
As with any conventional mortgage program, applicants must qualify for the preferential mortgage rate. According to Jeff Greenberg, vice president of mortgage lending at Guaranteed Rate, a participating NJHMFA lender:
You must have a credit score of at least 620
You may put down as little as 3%, although Greenberg said that a 5% down payment is more realistic.
Household income cannot exceed 140% of the yearly median income for your county.
Regarding the last point, Greenberg said that "Some two-income families in New Jersey earn above the threshold, so this program is not for everyone. However, we encourage first responders who are buying a primary residence to consider it because of the great rate and flexibility. It is an excellent loan program for younger, first-time buyers."
Greenberg added that although many lenders do not include refinancing in the police and firemen's mortgage program, Guaranteed Rate is extending that ability to first responders who qualify, under certain circumstances.
What to be aware of
-If the homeowner leaves the force (by quitting or termination), he or she must pay off the loan in full because they no longer qualify for the preferential rate. In these cases, the homeowner usually refinances with another lender to pay off the Police and Firemen's mortgage.
-Retirees with an existing loan may continue to pay it down according to their established schedule without penalty, but they may not apply for a new loan under the program.
-Borrowers will see a $35 monthly service fee as a line item on the monthly statement. This service fee is usually worked into the rate of a conventional mortgage instead of showing up as an extra charge due to the way the program is administered.
-Borrowers pay a loan origination fee $1825; $1500 goes to the lender and $325 to the state.
Beat the rate adjustment if you're on the market for a home
If you are a member of a New Jersey police, fire, or emergency services department, have at least one year of service, and have paid into the pension program for at least one year, we encourage you to apply for this mortgage program. Although the rate is going up in mid-August (by 1-1.5%), it will still be considerably lower than the current conventional rate at this time. You can contact Jeff Greenberg with questions at Jeffrey.greenberg@rate.com or 973-939-8667, or apply here.
As always, the team at Cedarcrest Realty is here to help you find the perfect home in the area you want, within your budget. We are specialists in Essex and Passaic counties and work with buyers and sellers throughout northern NJ. Come into our Caldwell or Little Falls office, or call us at 973-228-1050 to start your home buying journey.
Self-employed? You Can Still Get a Mortgage
Proving your income when you have a traditional corporate job is relatively simple. You can show years of paystubs to prove you have a stable track record with employment and a consistent weekly, bi-weekly, or monthly pay. Proving stability and income when self-employed is a little more difficult, but it's not impossible.
Longevity is Key
A major contributing factor to self-employed individuals receiving denial letters is a lack of track record. While most self-employed people know that self-employed does not mean unemployed, but you really have to prove you have a stable income and that you have been self-employed long enough to maintain your income ratio moving forward. The number of tax deductions you take may also make your debt-to-income ratio look higher because your income is based on your net rather than your gross. You need to be prepared to show a high enough income level to prove that you can make a monthly mortgage payment.
Documentation is Critical
The bank will want just as much documentation from you, if not more, than they would ask someone with traditional employment. Documents you'll need will definitely include bank statements and tax returns (for at least 2-3 years), as you'll rely more heavily on these to prove your income. Your bank may also ask to see your profit and loss statements, broken down into quarters or some other manner. You may need to work with an accountant to have officially reviewed statements to provide.
Anything you can give your lender to show that your business has grown from year to year will be especially helpful.
Check Your Credit Score
Make sure you do some work to ensure your credit score is up to snuff. We all realize how tough starting a business can be and your credit score may suffer a bit in those formative years. But you need to get things back on track. Repay debts and check your credit score regularly. Do what needs to be done to bring your score back into a favorable range, if it isn't there already. Try to approach the process without any consumer (credit card) debt.
Deposits Help
Having money on hand for a deposit, or for savings in general, shows you are in a good financial position. You're going to want to have enough for your down payment, closing costs, and a significant enough amount leftover to show the lenders that you'll be able to continue mortgage payments if your business hits a rough patch.
Self-employed does not mean unemployed and it certainly does not mean you can't buy a house. Find a lender who understands the unique struggles of the world of self-employment and you'll be well on your way to home ownership.
First-time homebuyers – those who have no present home ownership – are some of the luckiest in the market today. In order to stimulate a sluggish housing market, there have been a handful of incentives and loan opportunities that encourage those without a home to buy, in turn stimulating a down economy. Since the housing bubble, the market has been most generous to new buyers thanks to low housing prices and historically low interest rates. The drawbacks have been that lenders have tightened their lending guidelines, and there is a low inventory of homes available.
Why Buy?
Homeownership offers many benefits:
Increased control (no more cancelled leases)

A residence that better meets your needs

Home equity

Tax benefits

Builds credit
Below are a few tips for the first-time homebuyer.
Check the selling prices of homes in your area. For the most accurate data, you'll need to look at the MLS, so contact a real estate agent who can give you access to this up-to-date, real-time system.
Use a mortgage calculator to determine how much you can afford each month. Overestimate your expenses so that you leave ample room to afford your mortgage and the hidden costs, such as HOA fees, property taxes and utility bills.
Find out what property taxes will be. There are big differences from one county to the next. Unfortunately, no matter where you live in NJ, you can expect to pay high taxes.
Determine how much closing costs will be. First-time homebuyers sometimes have more incentives than other buyers, so you may be able to get your closing costs paid for. Still, it's not as common for these costs to be rolled into your loan as in years past, so know what you will have to bring to the table.
Work with a reputable realtor. A realtor is your best guide during the home buying process and will match you with the best properties, while also keeping you up-to-date on fluctuating interest rates and taxes.
Start the pre-approval process. A lender will look at your finances, qualify you based on your income and tell you how much home you can afford. Fannie Mae recommends that you spend no more than 28 percent of your income on housing, so take this into consideration. You want to afford your home, not make it a financial strain.