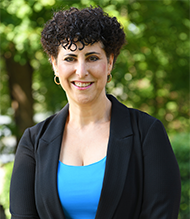 Jill Savva brings years of training experience and a vast knowledge of the NJ real estate market to CENTURY 21 Cedarcrest Realty, where she is collaborating with broker owner John Sass on growing our company by recruiting, developing, and mentoring new real estate agents.
"John is a great guy who you can trust," said Jill. "His office is like a family and it's a great, intimate environment. I'm glad to be here and put my years of experience to good use with our new associates."
A long-time real estate professional and broker associate, Jill has managed real estate offices and has trained new agents throughout the past 12 years. At Cedarcrest Realty, she shares her expertise with new agents as a field trainer, accompanying them on appointments to guide them through their early transactions. She assists with recruiting and onboarding new real estate agents, helps them secure and market listings, and takes them through the entire sales process. New agents from both our offices now have someone with them on appointments to strengthen their training in real time, and show them how to leverage the corporate marketing resources. The feedback has been very positive.
"It's great having Jill here to provide such tremendous value to our newer real estate agents," said Sass. "To now have this level of hands-on training and mentoring is making such a big difference in terms of their confidence level and ability to apply what they're learning in our classroom to the entire sales process with our customers."
Jill's real estate career began when she was a young adult. She had an insurance license and enjoyed selling, and used to manage restaurants, having grown up in a family that owned a deli. When a friend suggested she explore real estate, she jumped right in and as she says, "I never looked back." That was 30 years ago and her passion for the real estate field is going strong.
Of working with home buyers and sellers, Jill said, "I especially enjoy helping mature homeowners organize and manage the whole process as they prepare to sell their homes. They are often nervous and need someone to support them. I also like working with younger professionals who are focused buyers with a healthy budget. They know what they want and where they want it; my job is to find it for them which is a quite different transaction."
In addition, she is co-owner with her husband of a residential contracting company, providing her with additional expertise in helping sellers prepare and stage their homes for sale—from cosmetic updates and repairs to furniture placement and home accessories.
A lifelong New Jersey resident, Jill played soccer, softball and basketball in high school and college, and is an avid bowler; she has also coached basketball and softball, and umpired and refereed for high school sports. To say she is a team player is an understatement!
"I like seeing other agents do well—it's good for everyone. I believe if you work ethically and help each other, the money will come and everyone succeeds," she said. "At CENTURY 21 Cedarcrest, I can be hands on, help other agents get ahead, and I feel like I'm part of something."
The 2017 Tax Cuts and Jobs Act took effect for taxpayers upon filing their 2018 tax returns earlier this year. One of the biggest changes felt by homeowners in New Jersey—the state with the highest property taxes in the nation—was the state and local tax (SALT) deductions which include property, income, and sales taxes.
Property tax deductions
The SALT deduction allows taxpayers in high-tax states to deduct their local tax payments on their federal tax returns. Before the 2018 tax year, no maximum limits were attached to that deduction amount. Anyone who itemizes can deduct property taxes; the other taxes are their choice.
However, the new tax law placed a cap, for those who claim deductions, of $10,000 for income and property taxes. Ouch! Especially for homeowners in high-end markets, with homes valued at $1 million-plus, that cap represents an enormous drop in the deduction from what those taxpayers were claiming just two years ago.
In northern New Jersey—particularly in highly taxed municipalities in Bergen, Essex, and Passaic counties—these deductions for taxpayers who itemize were highly valued when filing their federal tax returns.
As our friend Joseph Isabella, a loan officer at Investors Bank illustrated in a recent presentation to our Cedarcrest team, "If you are paying $25,000 in income taxes to NJ and $25,000 in property taxes to your North Jersey town, that $50,000 deduction goes down to $10,000." This is certainly affecting wealthier taxpayers, who now pay a higher tax bill to the federal government. However, middle-class Americans who itemize (or had itemized), and who pay substantial property taxes, have also felt the pinch.
Mortgage interest and home equity/HELOC deductions
Another reason why the TCJA affects those with high-value homes is that the bill also reduces the limit on deductible mortgage debt.
For loans taken out after December 15, 2017, the cap is $750,000. Loans existing on December 15, 2017 of up to $1 million are not subject to the new $750,000 cap (they are grandfathered in). This figure is based on married filing jointly status; for a married filing separately or a single filer, the cap is half ($375,000).
If you have a loan of up to $1 million that existed on that mid-December date, you may refinance it and still deduct the interest. However, the new loan must not exceed the amount of the mortgage being refinanced.
Interest is still deductible on second homes, subject to the $1 million/$750,000 limits.
The Tax Cuts and Jobs Act of 2017 eliminates the deduction for interest paid on home equity loans and lines of credit for tax years 2018-2025 unless you use(d) those funds to purchase, renovate or substantially improve your primary or second home (any personal expenses are excluded, such as education or debt consolidation).
While high-net-worth individuals are seeing the biggest impact on their tax returns, the loss in deductions could be offset by the decrease of the top federal income tax rate, the doubling of the estate tax deduction, and the cutting of the capital gains rate.
Taking a broader view, these deduction limits may not have the negative effect many people fear. Due to their income or tax bracket, many taxpayers don't qualify for itemization on their tax returns and/or are best served taking the (now higher) standard deduction. For taxpayers who are single or married but filing separately, the standard deduction is $12,000. For heads of households, it is $18,000 and $24,000 for the married filing jointly taxpayers.
Yes, New Jersey has high property taxes, but it also has some great places to live—with lots of town services and strong school systems supported by those local property taxes. John Sass, broker owner of CENTURY 21 Cedarcrest Realty, notes that, "Prior to buying or selling a home, consumers should consult with their tax advisors/accountants to see how the new tax laws may affect them, given their particular circumstances. This is especially true now as 2020 approaches. With lots of numbers to crunch and tax strategies to consider, it's a great time to talk about tax matters related to real estate transactions with your trusted advisor."
It's also a great time to come talk to our real estate professionals at CENTURY 21 Cedarcrest Realty. Whether you're looking for a new home or putting yours on the market, our team's expertise in North Jersey real estate will help make the process a smooth one, every step of the way.