Zen—or dry—gardens date back to the late 14th century, when Zen Buddhist priests created these austere gardens for meditation and appreciation of beauty. These gardens had no water features; the priests created a feeling of water with rocks, even raking them to get a ripple-like appearance.
Zen gardens are appearing in backyards across northern New Jersey as well, taking a cue from Asian traditions by keeping the focus on nature. Homeowners may choose to create these gardens—made primarily of stone and gravel, often enhanced with moss, small plants or shrubs, and rock formations—to avoid having to water; others choose to install these for the quiet contemplation they invite and the serenity they provide. And, they are easy to maintain and are weatherproof. The homeowner needs simply to rake the gravel or sand, in desired designs. The very act of this raking can be in itself a meditation and is meant to be relaxing. Raked designs are often made to look like waves or streams.
Although they appear simple on the surface, Zen gardens have a complexity that is revealed as one takes time to enjoy the space. The homeowner takes an active (albeit, relaxing) role in changing the raked design, then stepping back to contemplate and enjoy it. The carefully groomed sand is meant to provide a refuge from the world.
Today's Zen gardens may include enhancements such as ponds, bridges, lighting and sculpture but the raked sand and fine gravel are the canvas upon which these sit.
Designing your Zen Garden
This starts by defining the space: a corner of an existing garden, part of your yard or even the whole yard. Do some research or visit other Zen or Asian gardens for ideas about topography and the hardscape (the stone work). Do you want to include water or not? What about lighting?
Whatever you do, think nature—a space with rough edges. Plants are not the main attraction so select a few specimen plants that will enhance the design because of their color or texture. Also consider seasonal changes; in northern New Jersey we experience all four seasons very distinctly and so does plant life.
Then it's time for your hardscape materials:
Stone – the structural basis for your Zen garden. Stepping stones, formations, borders, designs.
Pebbles – think river-rounded pebbles of various sizes that will create the fields, surround plants and outline paths.
Sand or fine gravel – this is used to create the illusion of water, raked as anything from a dry riverbed to roiling waves and ripples – the choice (and the fun) is all yours.
Other enhancements may include bamboo panels, statues (such as one of Buddha), low lighting (stone or concrete housing blends in best), and a koi fish pond. The plants you choose should offer some texture and color. Your landscaping professional or high-quality garden center should be able to make some smart suggestions.
You can find inspiration and ideas for your Zen garden on Pinterest and there are plenty of sources online or in your public library.
Adding a Zen garden to your New Jersey property will certainly make your home stand out, and will provide you with many tranquil hours enjoying and reconfiguring your creation.
Getting your home prepared for a listing with a real estate agency is an exciting time. Of course, your agent will want to be excited about your listing and bring as many qualified prospects as possible. Is your real estate professional providing you with guidance about how to add value to your home? These home maintenance and repair tips will help you increase your chances of a sale more quickly.
De-clutter and organize. No one wants to step through clutter, look in rooms or closets that are overflowing with unnecessary items, or have to imagine what the space could look like without a homeowners personal effects clouding the "scenery." Before you list your home for sale, start going through all the rooms, from attic to basement, and clean out and organize. You can create piles for discard, donate and store; once you've done the first two, it's time to organize your storage needs. Closet storage systems will help you keep clothes organized and make a great presentation. Garage and basement storage solutions are also available to keep items off the floor and in a safe place.
Refresh rooms with paint. That first impression will be largely influenced by the look and feel of your rooms. After you've cleaned and cleared, a fresh coat of paint in neutral colors will help rooms look larger and make prospective buyers feel better about your space. Bright colors might be your style but not theirs so avoid making too much of a "statement" in your color choice.
Update bathroom fixtures. Swap out those tired old bathroom faucets and the old sink; install a new vanity or a shower head; or put on new toilet seats if necessary. You need not spend lots of money to do these simple updates and a little goes a long way. Remember, clean and new is better than tired and worn.
Update kitchen appliances and fixtures. If this is in your budget, it is well worth the expenditure on this end of the sales process. There's no need for a full remodel but a face lift is well worth it for making a quicker sale. New cabinet doors and hardware or a new sink or new faucet with sprayer (a popular feature) are good investments. If you can swing it and your dishwasher or refrigerator are outdated, consider installing new models that prospective home buyers will appreciate.
Boost your curb appeal. Landscaping and driveway appearance are what prospective home buyers will see first—and will encourage or discourage them about coming inside for a closer look. Get your lawn in shape, plant your garden beds, prune your trees and shrubs. Outdoor lighting is also a benefit, from the front porch to the walkway or gardens. If the driveway is in poor shape, have it repaired.
Make necessary exterior repairs. In addition to the driveway, your front steps should be in good condition; your gutters should be in place and doing their jobs to prevent water damage to the home; missing roof shingles should be replaced; problems with paver or concrete walkways, your sidewalk, patio and deck (where applicable) should be remediated. Remember, you don't want to give anyone a reason to walk away (and you wouldn't want anyone to trip and get hurt).
Insulate for energy efficiency. One way to show prospective home buyers that your home is prepared for 21st century living is to add insulation in order to improve your energy efficiency and reduce heating and cooling costs. This is a also good time to look at your windows to see where you can seal any seams or cracks where air penetrates.
At Century 21 Cedarcrest Realty, we guide our clients to make sure their homes are in "ready for sale" condition, in order to make the sales process as stress-free as possible for everyone involved. As part of our client service, our real estate agents will go over what we feel your home needs to prepare it for a listing, and help you hash out the pros and cons of certain upgrades and repairs. Want to find out more about the best way to sell your home in Essex County or other northern New Jersey areas? Call Century 21 Cedarcrest at (973) 228-1050 or visit our website to get started.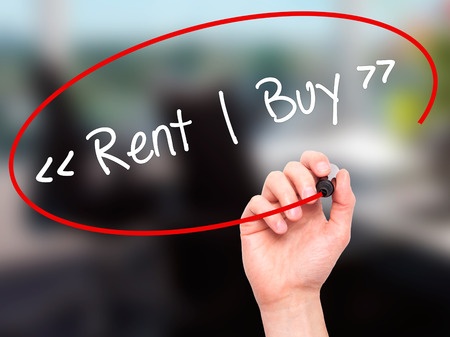 If you're currently renting your home and have always dreamed of buying, this might be the right time for you to make the choice to swap over to home ownership. Many people are worried about this step in life. They fear they are not ready yet, that they won't get approved or that they won't be able to afford buying a home. However, in many cases, buying your home can be more affordable than renting. Let's take a look at some of the other advantages.
Here are some of the advantages of owning vs. renting your home:
Your monthly mortgage might be less than the rent you are already paying so buying could save you money and you're building equity at the same time.

You have control of the creativity and flow of your home more when you own than most renters. You can redecorate, renovate and otherwise personalize your home. You usually cannot do this when you rent.

There are also tax deductions that come with owning your own home. You can deduct your mortgage interest as well as your property taxes and these are not benefits you get as a renter. There are also tax breaks on the sale of your home.

Your housing payments are also stable when you own vs. renting, where rent can go up. If you choose a fixed-rate mortgage, your principal and interest payments will be the same for the duration of the loan.

Your home is an investment. You will own it and whether you decide to live in it forever, resell it or rent it out, you are investing into something that you will own. This gives you more leverage with whatever you do decide to do with it in the future. You don't have this power when you rent.
Of course there are also disadvantages to buying. You will be responsible for all of your maintenance fees, you could lose value in the home over time, you have to pay property taxes which could be very high depending on where you live, and it requires a cash investment.
Now that you know the advantages of owning vs. renting your home, you can make this decision for yourself. Only you can truly know if this is the right decision for you at this point in your life but there are people who can help you with the process. A credit counselor and your real estate agent or broker can help you determine if home ownership vs. renting is right for you.
Owning a home is more than the American Dream. It's a decision that offers financial, social and emotional benefits. Still, buying a home is a big step, and the initial costs associated with it can scare people away. If you're contemplating buying your first home or re-entering the housing market after renting for some time, keep these benefits in mind. We can assure you that the pride and stability that comes from owning a home will make everything else seem like a minor inconvenience.
Tax Deductions
Come tax time, you can deduct the interest paid on the mortgage throughout the year. You may also be able to deduct closing costs, points paid and fees for your loan application and appraisal.
Increasing Value
This may be hard to believe coming out of a recession, but homes are still considered a safe and steady investment. The national median home price has risen every year since 1968 when this information was tracked. As you pay your mortgage down, you're basically putting money in the bank as a form of equity.
Equity
As you pay your mortgage down and the value of your home goes up, you're building up your equity. It's almost like paying yourself instead of paying your landlord. Once you have enough equity, you can move to a bigger home, or use it for borrowing power. Equity can help you secure another loan or take out a line of credit for education expenses or big ticket items.
Stability
Homeownership offers stability both financially and socially. With a fixed-rate income, you know what your mortgage payments will be each month for the next 30 years. On a social level, you know where you will be living, and you don't have to worry about the landlord ending a contract.
Flexibility and Freedom
You can paint the walls pink. You can put in hardwood floors. You can plant a tree and watch it grow. You have freedom to do the things you want, and hopefully a stable neighborhood to go along with it. With renting, there are far more limitations that can prevent you from turning your house into a home.