It's awards season again at CENTURY 21 Cedarcrest Realty!
Broker owner John Sass and members of the Cedarcrest Realty team recently attended the CENTURY 21® annual awards gala at the Venetian in Garfield. We celebrated and honored the winners from our office of several CENTURY 21® awards, which are presented to agents and offices that consistently provide high levels of customer service and sales production.
Here is our lineup of the 2019 CENTURY 21 Cedarcrest all-stars, based on customer service and gross closed commissions.:
Quality Service Pinnacle Award – Paula Cano, Yaw "Tracy" Chan, Bruno Marino, Joseph Scotto
Masters Ruby Award – Joseph Scotto
CENTURION® Award and Presidents Producer Award – Yaw "Tracy" Chan
Gold Medallion Award – CENTURY 21 Cedarcrest Realty, for sales production
Quality Service Pinnacle Office Award – For the ninth year in a row, CENTURY 21 Cedarcrest Realty won this prestigious award for delivering superior customer service, which is CENTURY 21's top honor for service
In addition, our office has some winners of the NJ Realtors® Circle of Excellence® Sales Award®. The Circle of Excellence® recognizes real estate professionals who have demonstrated excellence in the field of salesmanship.
Bronze Award – Patrick Smith, Paula Cano
Silver Award – Joseph Scotto
Gold Award – Yaw "Tracy" Chan
Congratulations to our hard-working real estate associates!
As we know, real estate is a relationship business . . . and it turns out, relationships are what brought two of our newest real estate associates to CENTURY 21 Cedarcrest Realty.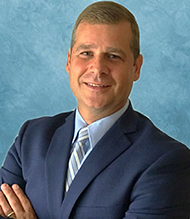 Bob Prall joined our team in the Caldwell office after completing real estate school and getting his license in July. Dennis DiSabato, our Caldwell sales manager, sold Bob and his family their current home 15 years ago.
He ran into Dennis a few months ago by chance and mentioned he'd been thinking about getting into real estate. "We talked about it and I saw that it would be the perfect option for me because I like to help people. With his encouragement, I decided to pursue it." He chose CENTURY 21 Cedarcrest Realty because, "Given Dennis' professionalism and integrity, I wanted to be at CENTURY 21, period!"
A lifelong Little Falls resident, Bob is a former volunteer fireman and a 20-year veteran of the Little Falls Police Department, he chose real estate as he looks to a future transition from assisting people as a sergeant on the streets to helping people find the home of their dreams.
"I'm a problem solver by nature and have worked with many people of all backgrounds during stressful times, helping them through their situation to see the bigger picture," explained Bob.
He enjoys real estate investing (and owns a rental property), so he is eager to help others as Dennis had done for his family. He also appreciates the flexibility real estate allows in his schedule plus, in his words, "the help factor." He loves meeting and talking to new people and with his personal real estate experience, he's excited about the potential.
"I know the job is all about building relationships and helping people-and I always feel good when I'm able to do so in my police work. Real estate has become a passion of mine that I wasn't able to tap into until now; it will be the key to opening new doors for me."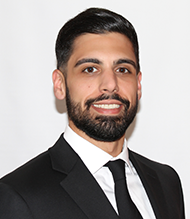 Eddie Modica of Totowa has joined our Little Falls office full time, grateful to have left behind an unfulfilling "cubicle job." He'd been interested in real estate for some time; a meaningful conversation with a friend (a real estate professional) and a friendly nudge from long-time pal Chris Malatesta in our Little Falls office, gave him the impetus to make the move.
"I had a conversation with my friend on a Wednesday, enrolled in real estate school the following week, got my license in July, and joined CENTURY 21 Cedarcrest Realty right away," said Eddie. "I've wanted a career that involves customer service and working directly with people for a long time-and something I could really take pride in. This is it."
Having grown up in Woodland Park, Eddie knows the Passaic County area well. Chris brought him into the Little Falls office and Eddie was very impressed with the environment-from the team to the technology.
"Visiting there made my decision a lot easier," he said. He noticed right away-and has experienced firsthand-how friendly and helpful everyone is. "They want you to succeed and everyone is willing to lend a hand. John Sass has been great and there are so many opportunities and resources there."
Eddie's looking forward to developing his own book of business as well. "A career in real estate is what you make of it which is exciting to me. No more punching the clock; I can build a more fulfilling future with endless possibilities here at CENTURY 21 Cedarcrest Realty."
He is signing up for all the classes we offer to our agents at all levels of experience and was LUXE certified (Luxury Listing Specialist) in August.
"Training and support leads to professional growth for our sales associates as well as growth for our offices," said broker owner John Sass. "The performance-based training we offer on an ongoing basis ensures that our Cedarcrest Realty agents are always delivering great service and that they're operating at their highest level."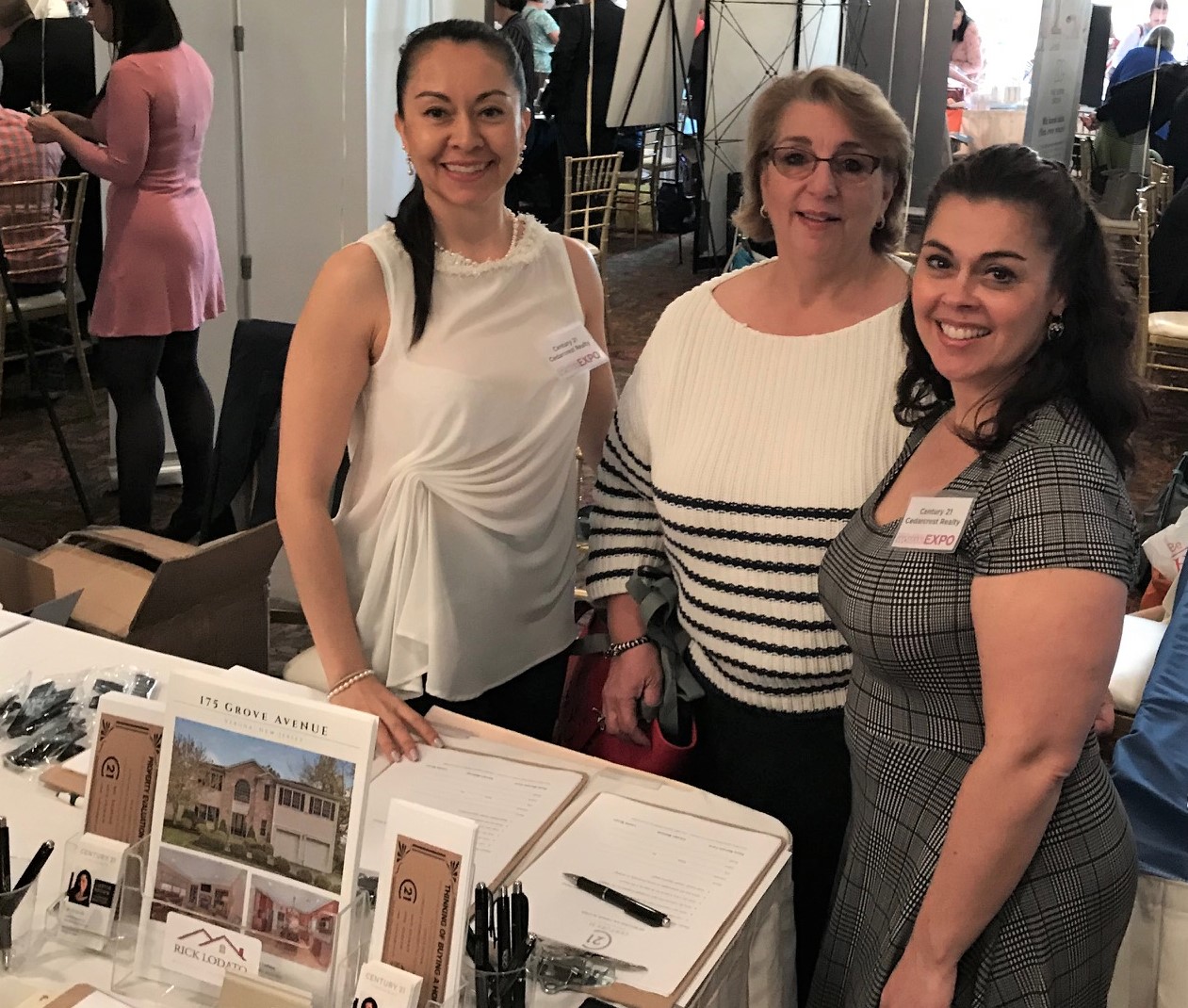 Three of the real estate professionals from CENTURY 21 Cedarcrest Realty recently attended the North Jersey Woman Expo at Mayfair Farms in West Orange. Paula Cano, Carolyn Maloney and Lizette Brown were at our exhibitor table, handing out giveaways (including snacks labeled with their contact information) and chatting it up with attendees about the local real estate market.
This was the third year that Carolyn has represented us at the expo and a first for Paula and Lizette, who left with many leads to follow up on from people who may be planning to buy or sell a home in the area in the foreseeable future. Lizette had information to share about a new listing that had just come in for her team, so the expo provided good marketing exposure for that.
More good exposure came from our gift basket raffle; the basket drew people's attention to our table and many stopped by to leave a business card for the drawing. This provided additional opportunities for our agents to speak to them about what we do at CENTURY 21 Cedarcrest. As it so happens, the woman who won the basket is currently renovating her home in anticipation of putting it on the market. Given that she had a chance to chat with Paula at the show, Paula is now following up about and will meet with her to do a comprehensive market analysis for the house.
When our agents are not at business expos meeting hundreds of people, they are busy cultivating and working listings in other ways. For example, Carolyn and Jacqueline Cabrera, who often work as a team, have visited a condominium community across the street from our Caldwell office to hand out flower and herb seeds, along with information on how to cultivate balcony gardens. They have struck up conversations with condo residents and let residents know about the agency, should they know anyone interested in moving into the area—or if any residents are ready to upsize to a single-family home in northern New Jersey.
Of course, as part of the CENTURY 21® system, our entire team has access to the real estate industry's best sales tools to get our listings in front of more prospects, and help prospective buyers find the types of properties they want and that are worth a look. There is always someone on site in our two offices (Caldwell and Little Falls) to assist by phone or in person during business hours. And we offer flexible open house schedules—such as twilight open houses—that help draw more people at the times they are available to attend.
Whether you're buying or selling . . . on the market for a residential or commercial property . . . CENTURY 21 Cedarcrest Realty is here to help in all ways possible!