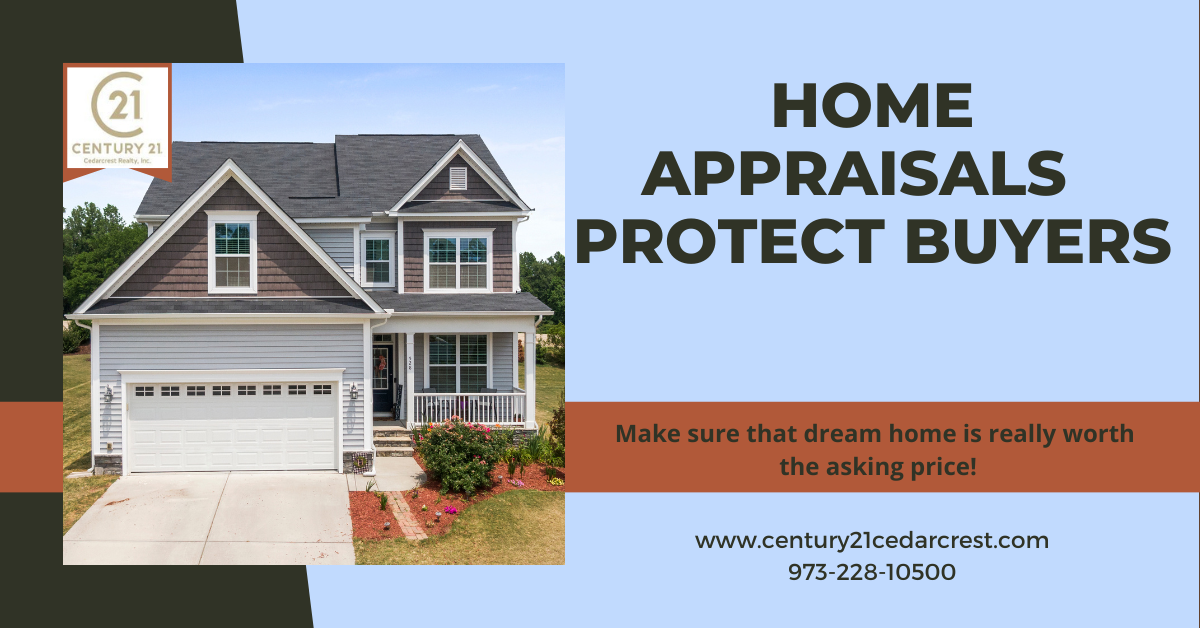 The North Jersey housing market is still hot, and many cash buyers are waiving their home appraisals. But there are many reasons why a home appraisal protects you and this most important investment.
You've finally gotten here. You have enough money to pay cash for your dream home. It feels great being able to afford a home without the need for financing or mortgage loans. In New Jersey, the housing market is still a hot seller's market and when it comes to buying a home, time is of the essence. You don't want to get into an aggressive bidding war, so you might also be tempted to waive the appraisal. But there are numerous reasons why you shouldn't skip this important step.
What is a Home Appraisal?
A home appraisal is a professional evaluation of a home's value. A licensed, trained appraiser will assess a house and take several different factors into consideration when calculating the home value.
Appraisals are helpful to homebuyers who want to make sure the price they're paying is justified. You may want to include an appraisal contingency in the sales contract; this clause lets you walk away from a home purchase if the appraisal comes in too low to justify the agreed-upon purchase price.
Banks and mortgage lenders use the appraised value to determine the highest mortgage amount they are willing to loan a borrower, to ensure that they are not financing an overvalued asset.
Factors that go into a home appraisal
These include:
Location / neighborhood
The year the home was built
Roof, floor, wall, and other construction materials
Bed/bath total
Square footage, number of stories
Foundation, basement, attic features
Appliances
Off-street parking, driveway, garage, etc.
Comparable homes and the overall housing market
Items that can affect an appraisal
Home location, curb appeal, neighborhood
We've all heard the phrase "location, location, location," but that's because it's one of the most important factors in determining your home's market value. Appraisers are looking for features such as neighborhood amenities, schools, quality of roads, walkability, etc.

Curb appeal is the first thing that potential buyers see, so if the outside of your property is unkempt, it could affect your home value. Upgrading your landscaping can help to improve your appraisal value.

You can't control who you live next to, but your neighbors could still affect the value of your home. Appraisers will check out the other homes in your neighborhood to help determine your property's value. If your neighbor's home is visibly more well-maintained than yours, it could hurt your appraisal. On the flip side, unruly pets, unkempt yards, noisy inhabitants, or poorly maintained property could also drive down your property value.

Maintenance, cosmetic updates, renovations
Maintaining a home is expensive and time-consuming, but neglecting standard maintenance can become a costly problem, and it can affect the value of your home. Therefore, ensuring that your home is clean and well-maintained can go a long way in improving your evaluation. Odors like cigarette smoke, pet smells, or mildew may also be a factor.

Keeping your home updated and well-preserved can go a long way in making it a desirable property for potential buyers. Outdated appliances, fixtures, and cabinetry may also negatively affect the marketability of your home. Be careful of making too many home renovations though, as some will not deliver a return on investment.
Other reasons to get a home appraisal
Appraisals can be used for other purposes:
Before selling your home to gauge appropriate asking price
Before refinancing your home
Before applying for a home equity loan
Applying for other loans
Appealing tax assessments
Are home appraisals required in New Jersey?
In New Jersey, home appraisals are required for buyers who are using a mortgage loan. Lenders want to make sure that their investment is worthwhile. After all, the home is being used as collateral for the loan. Determining market value is beneficial for both the buyer and the lender.
Even though appraisals are not required in New Jersey for buyers paying in cash, an appraisal will give you and your family an idea of what the home is truly worth.
Buying a home is a big investment. You and your family will potentially be putting hundreds of thousands of dollars on the line for your dream home. You want to make sure that you are making the right decision. The real estate professionals at CENTURY 21 Cedarcrest Realty will assist you throughout every step to ensure your home buying transaction is as smooth and pleasant as possible. We work with home buyers and sellers throughout Essex County, Passaic County, and North Jersey; come into our offices in Caldwell or Little Falls to start your journey!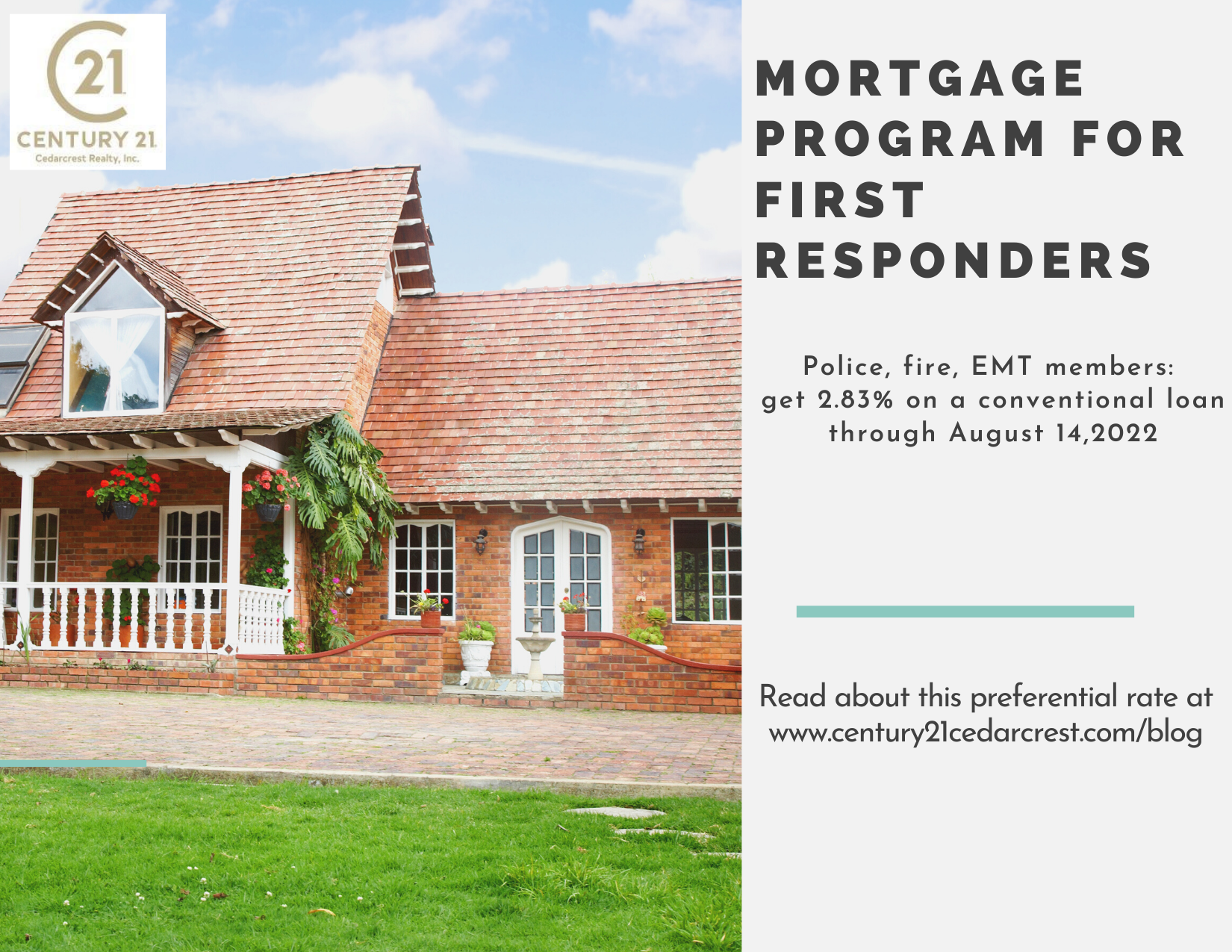 New Jersey police officers and firefighters who are buying a home can take advantage of an excellent mortgage program through the Police and Firemen's Retirement System Mortgage Program. The current rate is only 2.83% (compared to a conventional 30-year mortgage today at 6.699%) so we encourage any first responder who's on the market for a new primary residence to take advantage of this program, which offers highly favorable mortgage interest rates compared to conventional mortgages for the rest of the borrowing public.
Who qualifies?
The mortgages are available to any currently employed member of a New Jersey police, fire, or EMT department who:
Is a member of the Police and Firemen's Retirement System
Has a minimum of one year of creditable service
Has paid into the pension for at least one year
Is buying an owner-occupied house or condo (no investment property or homes larger than a two-family)
The program is backed by the Police and Firemen's Pension Program, underwritten through the State of New Jersey Housing & Mortgage Finance Agency (NJHMFA), and is administered through private lenders.
Low rate for qualified first responders to buy or refinance
This mortgage program offers police, fire, and EMT personnel very favorable rates that are set twice a year. The rate, which is set at only 1% over the 10-year Treasury bill index, is adjusted twice a year; the next reset will be on August 15. It is less than half of a conventional 30-year fixed rate today and will remain much lower than any prevailing rate available in today's market for the foreseeable future.
As with any conventional mortgage program, applicants must qualify for the preferential mortgage rate. According to Jeff Greenberg, vice president of mortgage lending at Guaranteed Rate, a participating NJHMFA lender:
You must have a credit score of at least 620
You may put down as little as 3%, although Greenberg said that a 5% down payment is more realistic.
Household income cannot exceed 140% of the yearly median income for your county.
Regarding the last point, Greenberg said that "Some two-income families in New Jersey earn above the threshold, so this program is not for everyone. However, we encourage first responders who are buying a primary residence to consider it because of the great rate and flexibility. It is an excellent loan program for younger, first-time buyers."
Greenberg added that although many lenders do not include refinancing in the police and firemen's mortgage program, Guaranteed Rate is extending that ability to first responders who qualify, under certain circumstances.
What to be aware of
-If the homeowner leaves the force (by quitting or termination), he or she must pay off the loan in full because they no longer qualify for the preferential rate. In these cases, the homeowner usually refinances with another lender to pay off the Police and Firemen's mortgage.
-Retirees with an existing loan may continue to pay it down according to their established schedule without penalty, but they may not apply for a new loan under the program.
-Borrowers will see a $35 monthly service fee as a line item on the monthly statement. This service fee is usually worked into the rate of a conventional mortgage instead of showing up as an extra charge due to the way the program is administered.
-Borrowers pay a loan origination fee $1825; $1500 goes to the lender and $325 to the state.
Beat the rate adjustment if you're on the market for a home
If you are a member of a New Jersey police, fire, or emergency services department, have at least one year of service, and have paid into the pension program for at least one year, we encourage you to apply for this mortgage program. Although the rate is going up in mid-August (by 1-1.5%), it will still be considerably lower than the current conventional rate at this time. You can contact Jeff Greenberg with questions at Jeffrey.greenberg@rate.com or 973-939-8667, or apply here.
As always, the team at Cedarcrest Realty is here to help you find the perfect home in the area you want, within your budget. We are specialists in Essex and Passaic counties and work with buyers and sellers throughout northern NJ. Come into our Caldwell or Little Falls office, or call us at 973-228-1050 to start your home buying journey.
Cedarcrest Realty Offers Tips for Home Sellers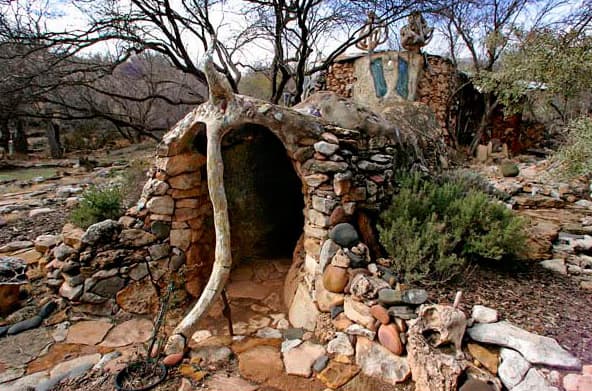 Are you selling a home with unique features? This may be a piece of real estate that stands out in its area, such as a farm or ranch in an area not typically known for this (like our northern NJ suburbs) or a waterfront property in a little-known cove.
Perhaps your home was once a church or a stable. Maybe it's perched atop a mountain, situated deep in the woods, or has all glass walls. You may have built a home inspired by nature with "woodsy" architecture, or built it into a mountainside or a cave. Does it have a nautical or outer space theme that caters to a niche audience?
Your unusual property may be a home with spaces that are not commonly found in your neighborhood, such as:
A basketball court or indoor swimming pool
A garage converted into a guest suite, home office, or recording studio
A basement space tricked out as a cigar bar and wine room, a media room with projection and surround sound, or a well-equipped home gym
Large property with a guest house or other outer buildings (raw or renovated)
You can see some truly unique real estate from around the world here and here.
Marketing your unusual property
Communication
Marketing a unique property takes some skill and savvy—and knowledge of the local market and what prospective home buyers are looking for. This also means working with a real estate agent who understands how to get those unusual listings shown to the right people. It's important to communicate from the start so that both agent and customer are on the same real estate page in terms of types of buyers to attract (or if you're the buyer, types of homes to show you).
For a musician, the house with the recording studio or purpose-built rehearsal space will be attractive.
Someone who loves the great outdoors may gravitate to a home in the woods or with scenic mountain views.
The weekend farmer may love the potential to do some tilling and growing on that farm property.
The woodworking enthusiast, weekend mechanic or artist will appreciate the barn that can be turned into a workshop or studio.
Fitness buffs will see the benefits of that indoor pool or home gym right away
Film lovers will flip over the home theatre
Digital marketing
As your Cedarcrest Realty agent will explain, online marketing that uses specific keywords in the listing to attract specialty buyers is a start, as is creating marketing materials that celebrate the home's unusual features or location. This will help market the property to target buyers who may not be looking for a "three-bedroom ranch with updated kitchen and bath."
Social media—especially Instagram and Facebook—is an excellent vehicle for showing off a home's unusual aspects. At CENTURY 21 Cedarcrest, we recommend hiring a professional photographer with experience in real estate photography to create compelling social media posts and put together a powerful virtual tour. If that's not in your budget, you can capture high-resolution digital photos from your camera (even a new cell phone); be sure to stage the rooms before shooting. If your home is on a large or extraordinary piece of land, or has exterior features of note, drone photography is a great way to show the setting and adds drama to your listing.
Real estate staging
As with any home on the market, real estate staging is an excellent way to show the space and give prospective buyers the ability to visualize themselves and their furnishings in the rooms. Even if you're attached to your Star Trek memorabilia in your Enterprise-shaped house, your Cedarcrest Realty agent will likely recommend you pack away most of it to clear the clutter. If you've chosen dark colors for your walls, buyers may turn away because of all the work it takes to paint light over dark (primer, two coats of paint …) so you may have to repaint the walls in more neutral tones, even though that deep blue matches the captain's quarters on the cruise ship.
Be flexible
You may have made some home improvements that appeal to you but are making it difficult to sell your house—whether it's an odd addition or level, choice of construction materials, or using a space differently from its intended use. Your real estate agent may suggest reverting a private office into a den or repurpose a large addition into a great room that appeals to families. Remember, your agent is there to help you get the best offer in the shortest amount of time!
At CENTURY 21 Cedarcrest Realty, we work with home sellers and buyers across northern New Jersey, with a specialty in Essex County and Passaic County. Our agents have helped thousands of buyers and sellers throughout our 12 years in business, making successful, happy matches with all types of properties in all price ranges. Contact us at 973-228-1050 to get your home listed or to start your home buying journey with our experienced real estate team.
Low Housing Inventory and High Demand Mean Buyers Must be Well-Prepared
As we noted in a previous post, the real estate market in New Jersey, especially northern NJ, is very tight, with low inventory and high demand—and bidding wars.
With the current inventory challenge being the number one concern on most real estate consumer's minds, we counsel homebuyers we work with to come prepared and ready to make the best purchase offer possible. While this has always been the case, in today's competitive market, it is especially important in order to make a purchase offer that is more likely to be accepted by sellers.
Don't lowball home sellers—they have the advantage. Rather, offer your "best price" up front. Your CENTURY 21 Cedarcrest Realty agent will have all the relevant comps and reports for you to go into the transaction with the pricing information you need.
Eliminate or reduce contingencies, which are the provisions or conditions that must be met to complete the transaction. Overuse of contingencies can sabotage a sale. The two most important contingencies for home buyers are inspection and financing contingencies.

A pre-offer inspection can help make the offer stronger because you will be able to negotiate your offer price based on needed repairs.
Other contingency reductions are minimization of the title, appraisal, and mortgage contingencies, although the latter two require a cash offer. Your Cedarcrest Realty agent can walk you through all the typical contingencies of a real estate transaction and guide you on how these may affect your purchase offer.

Get a lender's pre-approval letter; this is not a guarantee of a loan but it is a commitment to a certain mortgage amount, pending appraisal. From the seller's perspective, pre-approval shows that you are serious about making an offer on the home. It also shows that you underwent a more rigorous process than pre-qualification, and clarifies your home-buying budget.
Give a larger earnest money deposit (the amount you submit with your offer) than you were thinking—even double or triple the amount if you can swing it. This larger deposit could make you more attractive to a seller who has received multiple offers (as often happens in North Jersey). It goes toward your total down payment anyway and you'll pay it at closing, so if you can do this at time of purchase offer, it's a good tool in a competitive offer situation.
As always, the real estate professionals at CENTURY 21 Cedarcrest Realty have the knowledge and insights about the dozens of municipalities in which they work throughout Essex and Passaic counties and beyond. Contact our offices in Caldwell or Little Falls to list your home or to start your home buyer's journey with our award-winning team. Caldwell: 973-228-1050 or Little Falls: 973-364-1111.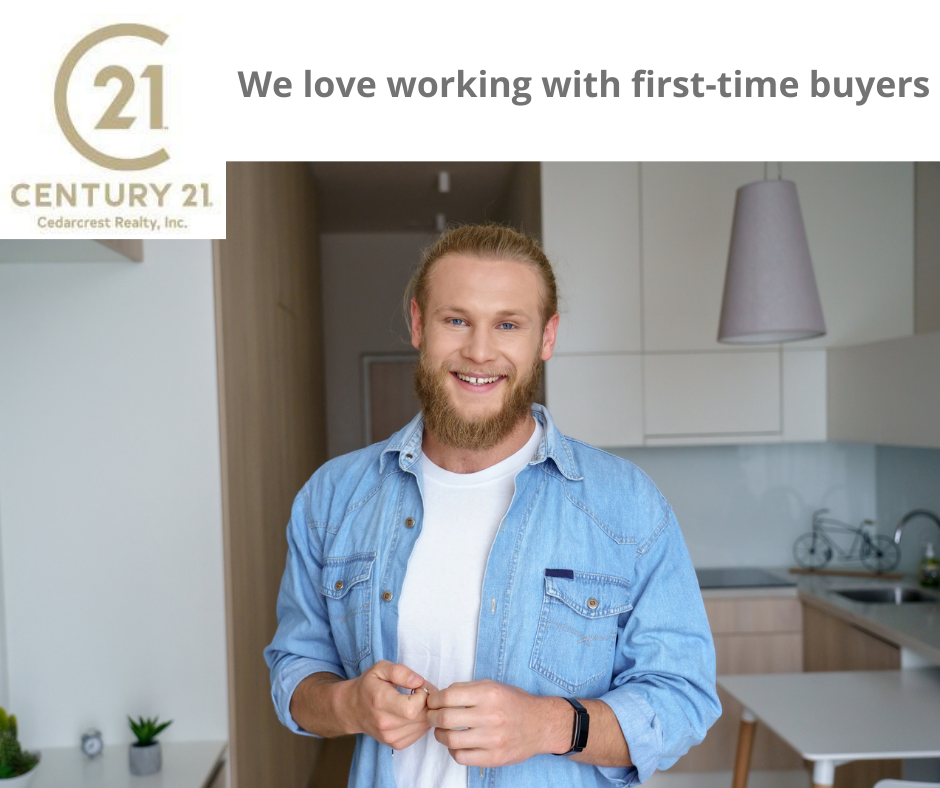 The New York metro real estate market has seen big shifts since the COVID-19 pandemic hit the area, with many city dwellers seeking out the suburbs to get away from crowded urban areas. They now want open space and great quality of life at a better cost of living when compared to NYC.
Another shift is the population making the move: in New Jersey, there are 1.8 million millennials (between ages 24 and 39) who make up 72% of today's housing demand. The average age of these home buyers is 32.
This is also a group that's paying off student loans, have been paying high rental rates, perhaps have started a family or paid for a wedding . . . and therefore, they don't have the 20% down payment saved up. With prevailing home prices in northern New Jersey, that figure could be as high as $65,000 (or more) depending on type and location of the home. According to mortgage industry executive and videocaster Barry Habib, 74% of millennials are ready to purchase a home within 12 months but 88% say they have significantly less than 20% of the sale price saved up for down payment. In fact, 14% state they have nothing saved up.
What's a young first-time home buyer to do?
FHA-backed mortgages for first-time buyers
If you're a millennial buying your first home, don't despair—this is not your father's real estate market anymore and that includes the types of home loans available. Has your real estate agent mentioned FHA loans? These federally guaranteed mortgages enable you to put down far less on a home. In fact, you can have as low as 3.5% of the purchase price to put down, and less-than-perfect credit to qualify for an FHA loan (the minimum credit score is 580 to qualify, unless you are putting down at least 10%). As with all mortgages, the lending institution will make the determination regarding loan qualification.
You'll pay higher costs on the transaction, but these loans are the leg up many young buyers need to realize the dream of home ownership.
What is the FHA
FHA stands for the Federal Housing Administration, an entity of the Department of Housing and Urban Development. It provides mortgage insurance on loans made by FHA-approved lenders on single family and multi-family homes in the U.S. FHA-backed mortgages are also available to certain borrowers who have filed bankruptcy or foreclosed on a previous property.
Work with a real estate brokerage that shows you the ropes
At CENTURY 21 Cedarcrest Realty, we work with many first-time home buyers at all income levels and with a variety of down payment savings. We understand what it takes—beyond showing homes in certain towns or within certain budgets—to get a real estate transaction from start to finish with as few hiccups as possible. One of the biggest roadblocks is qualifying for a mortgage, so we provide advice about mortgage options—including FHA loans; we also stress the importance of getting pre-approved for a mortgage in the tight market we operate in, which you can read about in this prior blog post. Contact us to get your home buying process started in Caldwell at (973) 228-1050 or Little Falls at (973) 364-1111.
The 2017 Tax Cuts and Jobs Act took effect for taxpayers upon filing their 2018 tax returns earlier this year. One of the biggest changes felt by homeowners in New Jersey—the state with the highest property taxes in the nation—was the state and local tax (SALT) deductions which include property, income, and sales taxes.
Property tax deductions
The SALT deduction allows taxpayers in high-tax states to deduct their local tax payments on their federal tax returns. Before the 2018 tax year, no maximum limits were attached to that deduction amount. Anyone who itemizes can deduct property taxes; the other taxes are their choice.
However, the new tax law placed a cap, for those who claim deductions, of $10,000 for income and property taxes. Ouch! Especially for homeowners in high-end markets, with homes valued at $1 million-plus, that cap represents an enormous drop in the deduction from what those taxpayers were claiming just two years ago.
In northern New Jersey—particularly in highly taxed municipalities in Bergen, Essex, and Passaic counties—these deductions for taxpayers who itemize were highly valued when filing their federal tax returns.
As our friend Joseph Isabella, a loan officer at Investors Bank illustrated in a recent presentation to our Cedarcrest team, "If you are paying $25,000 in income taxes to NJ and $25,000 in property taxes to your North Jersey town, that $50,000 deduction goes down to $10,000." This is certainly affecting wealthier taxpayers, who now pay a higher tax bill to the federal government. However, middle-class Americans who itemize (or had itemized), and who pay substantial property taxes, have also felt the pinch.
Mortgage interest and home equity/HELOC deductions
Another reason why the TCJA affects those with high-value homes is that the bill also reduces the limit on deductible mortgage debt.
For loans taken out after December 15, 2017, the cap is $750,000. Loans existing on December 15, 2017 of up to $1 million are not subject to the new $750,000 cap (they are grandfathered in). This figure is based on married filing jointly status; for a married filing separately or a single filer, the cap is half ($375,000).
If you have a loan of up to $1 million that existed on that mid-December date, you may refinance it and still deduct the interest. However, the new loan must not exceed the amount of the mortgage being refinanced.
Interest is still deductible on second homes, subject to the $1 million/$750,000 limits.
The Tax Cuts and Jobs Act of 2017 eliminates the deduction for interest paid on home equity loans and lines of credit for tax years 2018-2025 unless you use(d) those funds to purchase, renovate or substantially improve your primary or second home (any personal expenses are excluded, such as education or debt consolidation).
While high-net-worth individuals are seeing the biggest impact on their tax returns, the loss in deductions could be offset by the decrease of the top federal income tax rate, the doubling of the estate tax deduction, and the cutting of the capital gains rate.
Taking a broader view, these deduction limits may not have the negative effect many people fear. Due to their income or tax bracket, many taxpayers don't qualify for itemization on their tax returns and/or are best served taking the (now higher) standard deduction. For taxpayers who are single or married but filing separately, the standard deduction is $12,000. For heads of households, it is $18,000 and $24,000 for the married filing jointly taxpayers.
Yes, New Jersey has high property taxes, but it also has some great places to live—with lots of town services and strong school systems supported by those local property taxes. John Sass, broker owner of CENTURY 21 Cedarcrest Realty, notes that, "Prior to buying or selling a home, consumers should consult with their tax advisors/accountants to see how the new tax laws may affect them, given their particular circumstances. This is especially true now as 2020 approaches. With lots of numbers to crunch and tax strategies to consider, it's a great time to talk about tax matters related to real estate transactions with your trusted advisor."
It's also a great time to come talk to our real estate professionals at CENTURY 21 Cedarcrest Realty. Whether you're looking for a new home or putting yours on the market, our team's expertise in North Jersey real estate will help make the process a smooth one, every step of the way.
Even in northern New Jersey, which has a healthy real estate market, it's hard to know whether or not seasons play in the home sale cycle. With the cold temperatures and inevitable snow and ice, many homeowners—and home buyers—may feel it's better to wait until spring.
Not so fast!
There are actually strong reasons to put your home on the market now. The common belief is that the spring market—when birds are chirping and gardens are blooming—is the best time to buy and sell real estate but here are some good reasons to put your house on the market in the late fall or winter.
You attract more serious buyers. Really—these people are on the hunt and want a house now. Motivated buyers, for whatever their reason, are always searching for the right home in the right town for them. The winter months also gives these buyers a chance to scope out potential neighborhoods when other things are going on besides landscaping and swimming pools. They may love or abhor lots of holiday lights, for example, and want to see what goes on around the block during December and January (or even February for Valentine's Day and March for St. Patrick's Day). Or they may have concerns about whether the neighbors are keeping sidewalks clear of snow and ice (and whether the town snowplows are doing a good job).
Wintertime staging possibilities. A well-staged home attracts buyers and offers, and winter greenery, cozy throws and blankets, and the aroma of pumpkin spice can be very alluring.
Competition is lighter. It's all about supply and demand. With less "for sale" signs around town, yours will catch attention and yield calls to the real estate agency to see the house. Fewer homes on the market drives up buyer demand, increases the probability of showings and with those, strong offers.
Speedier transactions (and less stress). Think of the real estate market as a highway; with fewer "cars" in the buying lane, there are no processing traffic jams for all parties involved and transactions can move along more quickly. Mortgage lenders have fewer loans to process, real estate attorneys are dealing with a lighter closing load, and home inspectors are more available.
Your real estate agent is always ready! Good real estate agents know that any time of year is a good time to list a home and bring buyers around. Marketing tactics may shift with the seasons and these professionals are ready with tips to help sell your home at any time of year.
If you're thinking of putting your home up for sale now, or are looking for a home in Essex County or throughout northern New Jersey, the real estate agents at CENTURY 21 Cedarcrest Realty are ready to help. Contact us at (973) 228-1050 to get started.
CENTURY 21 Cedarcrest Realty has been growing significantly this year, with three new agents joining our team in the last two months.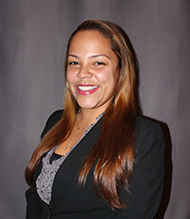 KRYSTLE DELGADO is new to real estate but her dream of working in real estate dates back to her high school graduation! After some other endeavors and dealing with a serious health issue, Krystle examined her life and made her career goal a priority. During her recovery, she took the real estate course and passed the exam.
She was looking for schedule flexibility and was talking to several agencies but none felt right. A conversation with a family friend led to her contacting Susan Mazzetta, CENTURY 21 Cedarcrest's director of training and development.
"Susan made me feel very comfortable and at ease, and right away, I knew that Cedarcrest Realty was a good fit for me." Krystle, who lives in Bloomfield, joined our agency in early October.
As to "why real estate," she has a strong sales background and values independence and self-sufficiency. "I like the idea of being in charge of my own business; if I'm not successful, there's no one to blame but myself."
Regarding CENTURY 21 Cedarcrest, Krystle says, "Everyone is very willing to help and answer questions; I never feel intimidated. Everyone walks you through the processes and offers assistance. I also like to learn new things and there's a lot of training here, which is great."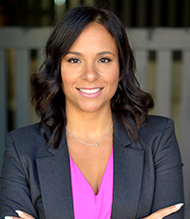 NATASHA BARINAS also joined CENTURY 21 Cedarcrest in October after several years selling real estate in Los Angeles. Prior to that, she worked in fashion design and production, in retail, and owned her own swimwear line.
"I like real estate because you're independent, taking responsibility for your business," she says. "I also like the dynamic of working with so many different people; every day is different."
She finds similarities between real estate and her work in fashion, where she did a lot of negotiating and interpreting ideas into reality. "With real estate you help buyers determine where they really belong. I love helping them discover the dream home they truly feel is right for them."
After moving to Verona this past summer, Natasha enrolled in the NJ state licensing classes; she told her instructor she wanted to connect to a more intimate, boutique-style brokerage, like the one in California. "CENTURY 21 is exactly what you're describing" was the advice she received. She says that she felt that immediately when she interviewed with Susan at Cedarcrest Realty.
"In Los Angeles I interviewed at around 30 agencies before finding the right one but here, I found exactly where I want to be right away. The way the agents joke around and really know each other—it felt like family."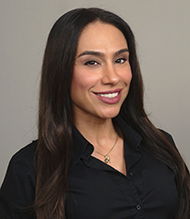 CAROLINA MARIN of Clifton, who'd worked a few years ago at a Coldwell Banker office, has returned to real estate after a brief hiatus into other fields. She joined CENTURY 21 Cedarcrest in early November after a chance meeting with a friend, Paula Cano, one of our real estate agents.
"I mentioned that I wanted to get back into real estate and was looking for an agency that offered training and development. Paula recommended CENTURY 21 Cedarcrest because of the training and professional development here," says Carolina. "I really appreciate that Cedarcrest Realty gives us the tools to develop our real estate practice."
She says she likes helping clients find the home they'll love, and that being at the closing and seeing them so happy makes her day. She also likes that "Everyone is very helpful and so nice about answering questions. In some offices, they leave you on your own with no support. But at CENTURY 21 Cedarcrest, everyone is willing to assist you."
If you're looking for a real estate office that supports its people—from new agents to seasoned pros—contact Susan Mazzetta for a confidential interview at (973) 228-1050.
Working in commercial real estate is quite different from helping home buyers and sellers—you're working with business owners and investors with a very different inventory.
A commercial transaction might deal with multi-family, mixed-use, retail, or office space. Therefore, successful commercial real estate agents must know about sales and leasing in a broad array of property types. There are different kinds of tenant negotiations that occur, and different types of marketing strategies. And a transaction could be for an owner occupied property or as a commercial real estate investment, adding additional factors to the transaction.
What do investors, buyers and tenants want from a commercial real estate professional
First off, commercial is a specialty, so it's best that an agent gain experience and knowledge in this specific sector of the real estate field. Know (or learn) how to deal with commercial transactions—there are no uniform contracts or cookie cutter leases. That means sharpening your negotiation skills as well as understanding the leasing or commercial buying process.
Of course, just as with residential sales professionals, being proactive is important. Aside from canvassing the local market for properties and leads, research is key to commercial transactions.
Use your office's systems and tools to research market rates for rentals
Become conversant in investment packages
Gain a full understanding of the different areas in your market. Do properties in certain areas attract certain kinds of businesses? Do the listing prices make sense for sale properties?
Can you provide a detailed and accurate financial analysis for commercial investors?
Aside from research, developing good relationships with area business owners can help create strong database and referral network. When that investor calls the office looking for help finding the right property, you'll not only have the listings services as a resource, you'll have local people to contact and potential space to visit because you've done your homework.
Speaking of referrals—remember that commercial real estate transactions often involve build outs and other improvements as part of the lease negotiations. Therefore, good power partners are architects, general contractors, and others involved in lease improvements.
More complicated investment deals may require partnering with others to make a successful transaction, so it's important to know the players in your area or your office to create a winning team.
If you are working with tenants, it's important that you show them you understand their businesses and that you are showing them space that makes sense for their needs. Whether it's a restaurant, retailer, healthcare facility or law practice, every client has different needs in terms of square footage, utilities, parking and leasehold improvements.
When working with building owners, these clients want to know that you have a good performance record when it comes to finding strong tenants or solid buyers; your experience will speak for itself. They will also count on you to represent their interests to potential buyers or tenants, and that you can negotiate a strong deal on their behalf. Like the buyer or tenant, the seller or landlord will want to know that you have his/her best interests in mind throughout the transaction.
From any side of the transaction, building trust builds relationships that will in turn build business.
Build your book of business at Century 21 Cedarcrest Realty
Our office is growing—and we're always looking for savvy commercial real estate agents to join our team. When you join our northern New Jersey office, you become part of one of the country's most well-respected real estate organizations, with business-building tools and apps designed for commercial real estate agents. You can take advantage of commercial investment training that will position you for a broader range of transactions. Plus, you'll benefit from our ongoing in-office training and development for agents at all stages of their careers—an important way we support our team, and why Century 21 Cedarcrest Realty consistently wins industry awards for sales volume and customer service—and accolades and awards from consumers as well.
Interested in learning more? Contact Susan Mazzetta at (973) 228-1050, ext. 126 for a confidential interview.
Experienced real estate agents know that a career in real estate has many rewards. To a large extent, you make your own hours and the earning potential is high—especially when you've nurtured great leads and have closed many successful transactions with happy customers.
However, as with many other careers, sometimes you need to make a change. Over time, motivation can lag and that spark can start to sputter when you've been in the same office for a very long time.
If you're feeling like your real estate sales career has gotten stagnant, it might be time to change offices. And, if you're working in northern New Jersey on residential sales and rentals, Century 21 Cedarcrest Realty in Caldwell, NJ has a place for you.
Our office is all about excitement and opportunity, working in an upscale market in northern New Jersey. In fact, Century 21 Cedarcrest Realty is a designated Fine Homes & Estates office; wouldn't like a piece of that action?
Five great reasons to join Century 21 Cedarcrest Realty
As one of our agents, you'll be part of the vast Century 21 network, with opportunities to work with buyers and sellers from just about anywhere across the country—and around the world.
We're all about career development, and provide ongoing training in our own training center. Century 21 Cedarcrest Realty offers weekly training classes and provides guidance whenever you need it to help you keep your sales and marketing skills sharp and your customer relationships positive.
No-fee leads – unlike other offices, Century 21 Cedarcrest Realty covers the cost of the lead management system to help maximize your earnings.
Senior management that's there and that cares. We're not behind closed doors—we're available every day for hands-on interactions with our sales associates, always ready to help you build your book of business.
Come rejuvenate your real estate career at Century 21 Cedarcrest Realty. Contact Susan Mazzetta at (973) 225-1050, ext. 126 for a confidential conversation about opportunities for seasoned real estate sales associates … and a future with Century 21 Cedarcrest Realty.