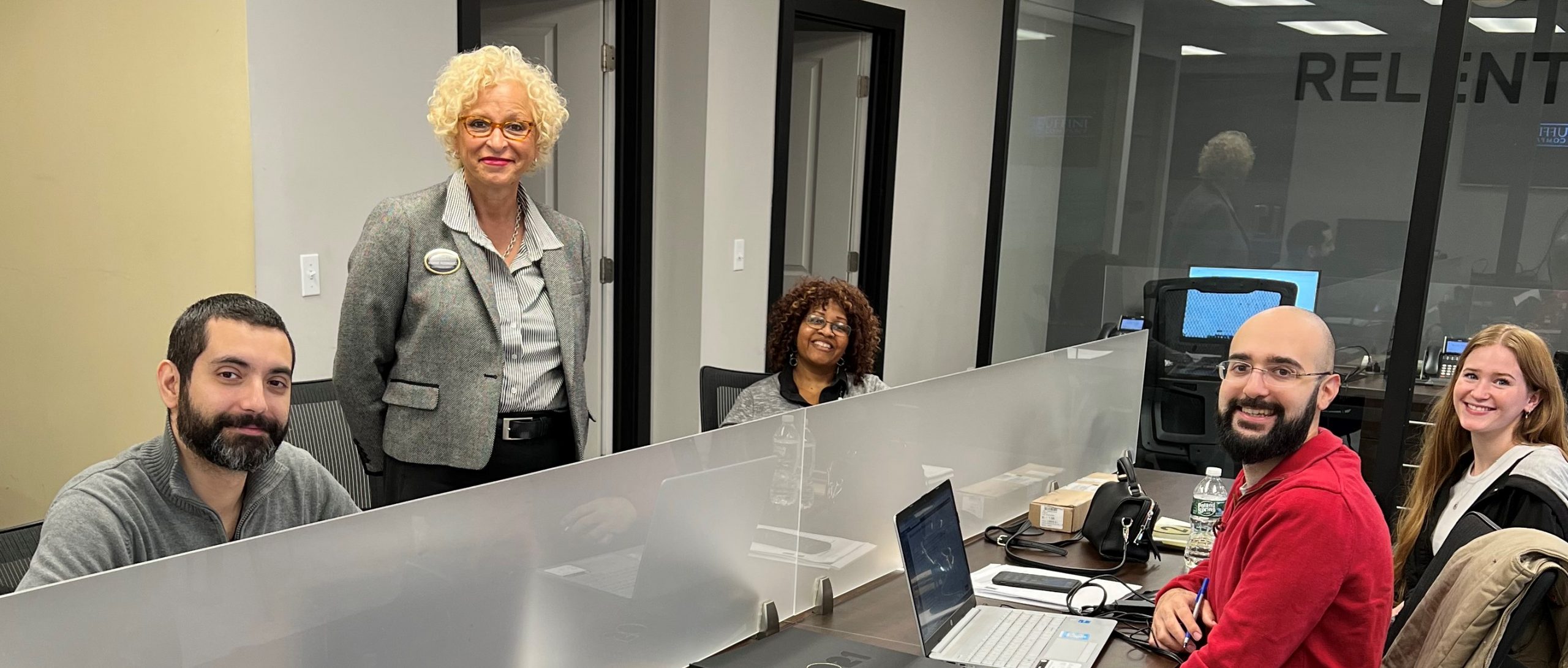 Real estate brokerages may seem pretty much the same to most consumers. But for real estate agents, there are significant differences working at CENTURY 21 Cedarcrest Realty. It's all in the training and professional development the brokerage provides.
John Sass, broker owner of Cedarcrest Realty, knows how important training and continuing education are in real estate. "We offer training on-site and through C21 online, to help agents through every period of their career build their skills and book of business."
For newly minted real estate agents in particular, John says that nothing takes the place of live in-house training. "We hold 12 basic training sessions in our office to get new associates acclimated to the business," he said.
Cedarcrest Realty's ongoing training and development comprise:
1 – Basic onboarding. Everything new agents need to get set up in the CENTURY 21 system, and all skills necessary to prospect, communicate with (and listen to) buyers and sellers, and modules on basic marketing and customer service—a major point of pride and difference at Cedarcrest Realty, which consistently wins the annual CENTURY 21 Quality Service Award. Mannie Rodriguez, our director of growth and career development, oversees this portion of our training.
For experienced real estate agents new to the CENTURY 21 system, the courses provide a valuable introduction to what's available to them to continue working on their business—including the proprietary programs we use.
2 – Starting and growing your business. Agents learn how to create a personal database, and maintain and grow their sphere of influence. They also participate in C21 Online training with live, interactive C21 University courses on every real estate topic imaginable.
"There are so many tools available throughout the CENTURY 21 system such as XCellerate, courses on handling for sale by owner (FSBO) transactions, listing presentations, prospecting tactics, and for more experienced agents, topics such as recruiting a team and building a luxury business," said John.
Additionally, new agents receive valuable hands-on field training from Jill Savva throughout their first few transactions. She also works with them on how to best use social media to market their listings.
"New agents need someone at those early appointments to make sure they are covering all the bases and get full support in the field, in real time," explained John. "They may shadow Jill for the first few appointments with buyers and sellers as they gain this experience." Jill also ensures they understand how to write contracts, and do a market analysis and listing presentation.
3 – Personal coaching. More experienced real estate agents get one-on-one coaching to up-level their business, with John and Dennis Di Sabato, our sales manager. They are coached on how to achieve their personal goals and get sage advice on how to put together and maintain a piece of business to get the transaction to the closing table. Other guidance includes how to transform their personal databases into customers, advocates, and referral sources; hiring an assistant (timing and process) and how to put together a cohesive team; and how to market different types of listings.
"Regardless of how seasoned any of us are, that fresh perspective is so helpful when it comes to seeing new ways to hit goals," said John. "We want all our associates to know they are never alone, and if they hit a roadblock, Dennis will show them how to continue moving the deal forward. One of our highly productive associates meets with Dennis every day to review his pipeline, look for potential issues, and discuss closing strategy."
4 – Continuing education. All real estate agents must complete 12 CE credits every two years to renew their licenses. Cedarcrest Realty offers ample opportunities for agents to build their knowledge base through in-office presentations about various topics related to the business of real estate.
5 – Tech tools and office support. CENTURY 21 offers industry-leading tools beyond C21 University and C21 Online. From leads to listings and throughout the transaction process, Cedarcrest Realty agents get unmatched support with:
Dash – a back office program that pushes out all our listings to various websites.
Back at You Media – a service that also connects to and shares our listings automatically. Our associates can access the back end to update or enhance the posts as desired.
The MoxiWorks suite – Moxi Engage leads engine, Moxi Present for market analyses and presentations, Moxi Impress for marketing properties, Moxi Website for creating unique agent websites.
Unique Properties
Dotloop for paperless transaction management
NJ MLS and Garden State MLS (training and full access to our accounts)
CoStar and LoopNet for commercial transactions
Listing signs are ordered, put up and taken down for our associates
We purchase all lock boxes for your listings
We provide signage and social media marketing for open houses
Anyone interested in career opportunities at CENTURY 21 Cedarcrest Realty should contact John Sass at 973-632-4398, Mannie Rodriguez at 201-744-9790 or Manniec21cedarcrest@gmail.com, or Jill Savva at 973-809-4362.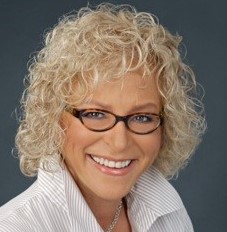 In August, CENTURY 21 Cedarcrest Realty welcomed Manuela "Mannie" Rodriguez to our team as director of growth and career development. In her role, Mannie will recruit new real estate agents, and oversee their training and professional development.
Mannie has nearly 20 years of experience in real estate as an agent, trainer, recruiter, and office manager. She has developed coaching programs and one-on-one training for real estate agents, created programs to elevate performance standards and team productivity, and has a proven track record of increasing sales revenue and client acquisition. Before entering the real estate profession (which includes being part of the CENTURY 21® system), she worked in college admissions and commercial lending.
Aside from her keen interpersonal skills, team-building expertise, and extensive knowledge of what it takes to succeed in real estate, Mannie also brings a passion for performance to our team.
"I've been on the front lines of recruiting and development for years and enjoy creating an atmosphere that fosters enthusiasm for and learning about the real estate industry," she said. "I am very lucky to do what I am passionate about every day, and I'm looking forward to bringing energy and excitement to our team, while discovering motivated talent that wants to become part of CENTURY 21®."
Mannie has set her sights on growing the Cedarcrest Realty team with real estate associates at all levels of experience. In addition to training them on the online tools and resources available from CENTURY 21®, she will also provide professional guidance for new agents. Outside of the office, expect to see Mannie—a veteran networker—at area chambers of commerce and other business associations as part of her business development activities.
Mannie added that it's the go-getter attitude she's looking for to build the Cedarcrest Realty team. "I'm proud of my track record and am looking for agents who share that same thirst for success I had when I started out in real estate."
She noted how the real estate field, like so many others, has evolved over the past 20 years.
"Real estate is no longer paper driven; it's about being online and social media is the name of the game. But I understand that not everyone is at the same level of comfort or know-how with technology and that's OK! I am here to partner with our associates, motivate them, and provide the skills and support they need to run a successful and productive real estate business," she said.
Broker owner John Sass said that "Mannie's passion for coaching and professional development aligns so well with my vision for the future of our agency. Her enthusiasm and 'can do' attitude will infuse our offices with tremendous energy. She understands the system's digital tools and how they benefit our agents, and as younger recruits come in, they'll have strong support here. The CENTURY 21 culture—one of relentless excellence and an elevated real estate experience for our customers—is in good hands with Mannie."
Anyone interested in career opportunities at CENTURY 21 Cedarcrest Realty should call the Caldwell office at (973) 228-1050 or email Mannie Rodriguez at Manniec21cedarcrest@gmail.com. More information about the brokerage is at https://century21cedarcrest.com/.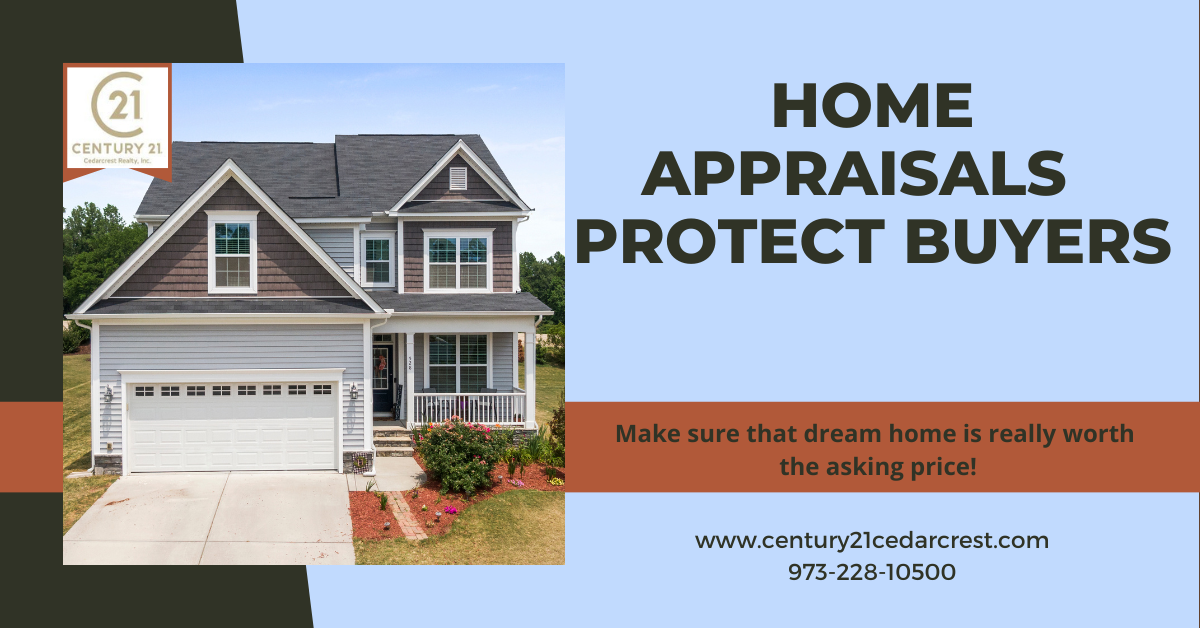 The North Jersey housing market is still hot, and many cash buyers are waiving their home appraisals. But there are many reasons why a home appraisal protects you and this most important investment.
You've finally gotten here. You have enough money to pay cash for your dream home. It feels great being able to afford a home without the need for financing or mortgage loans. In New Jersey, the housing market is still a hot seller's market and when it comes to buying a home, time is of the essence. You don't want to get into an aggressive bidding war, so you might also be tempted to waive the appraisal. But there are numerous reasons why you shouldn't skip this important step.
What is a Home Appraisal?
A home appraisal is a professional evaluation of a home's value. A licensed, trained appraiser will assess a house and take several different factors into consideration when calculating the home value.
Appraisals are helpful to homebuyers who want to make sure the price they're paying is justified. You may want to include an appraisal contingency in the sales contract; this clause lets you walk away from a home purchase if the appraisal comes in too low to justify the agreed-upon purchase price.
Banks and mortgage lenders use the appraised value to determine the highest mortgage amount they are willing to loan a borrower, to ensure that they are not financing an overvalued asset.
Factors that go into a home appraisal
These include:
Location / neighborhood
The year the home was built
Roof, floor, wall, and other construction materials
Bed/bath total
Square footage, number of stories
Foundation, basement, attic features
Appliances
Off-street parking, driveway, garage, etc.
Comparable homes and the overall housing market
Items that can affect an appraisal
Home location, curb appeal, neighborhood
We've all heard the phrase "location, location, location," but that's because it's one of the most important factors in determining your home's market value. Appraisers are looking for features such as neighborhood amenities, schools, quality of roads, walkability, etc.

Curb appeal is the first thing that potential buyers see, so if the outside of your property is unkempt, it could affect your home value. Upgrading your landscaping can help to improve your appraisal value.

You can't control who you live next to, but your neighbors could still affect the value of your home. Appraisers will check out the other homes in your neighborhood to help determine your property's value. If your neighbor's home is visibly more well-maintained than yours, it could hurt your appraisal. On the flip side, unruly pets, unkempt yards, noisy inhabitants, or poorly maintained property could also drive down your property value.

Maintenance, cosmetic updates, renovations
Maintaining a home is expensive and time-consuming, but neglecting standard maintenance can become a costly problem, and it can affect the value of your home. Therefore, ensuring that your home is clean and well-maintained can go a long way in improving your evaluation. Odors like cigarette smoke, pet smells, or mildew may also be a factor.

Keeping your home updated and well-preserved can go a long way in making it a desirable property for potential buyers. Outdated appliances, fixtures, and cabinetry may also negatively affect the marketability of your home. Be careful of making too many home renovations though, as some will not deliver a return on investment.
Other reasons to get a home appraisal
Appraisals can be used for other purposes:
Before selling your home to gauge appropriate asking price
Before refinancing your home
Before applying for a home equity loan
Applying for other loans
Appealing tax assessments
Are home appraisals required in New Jersey?
In New Jersey, home appraisals are required for buyers who are using a mortgage loan. Lenders want to make sure that their investment is worthwhile. After all, the home is being used as collateral for the loan. Determining market value is beneficial for both the buyer and the lender.
Even though appraisals are not required in New Jersey for buyers paying in cash, an appraisal will give you and your family an idea of what the home is truly worth.
Buying a home is a big investment. You and your family will potentially be putting hundreds of thousands of dollars on the line for your dream home. You want to make sure that you are making the right decision. The real estate professionals at CENTURY 21 Cedarcrest Realty will assist you throughout every step to ensure your home buying transaction is as smooth and pleasant as possible. We work with home buyers and sellers throughout Essex County, Passaic County, and North Jersey; come into our offices in Caldwell or Little Falls to start your journey!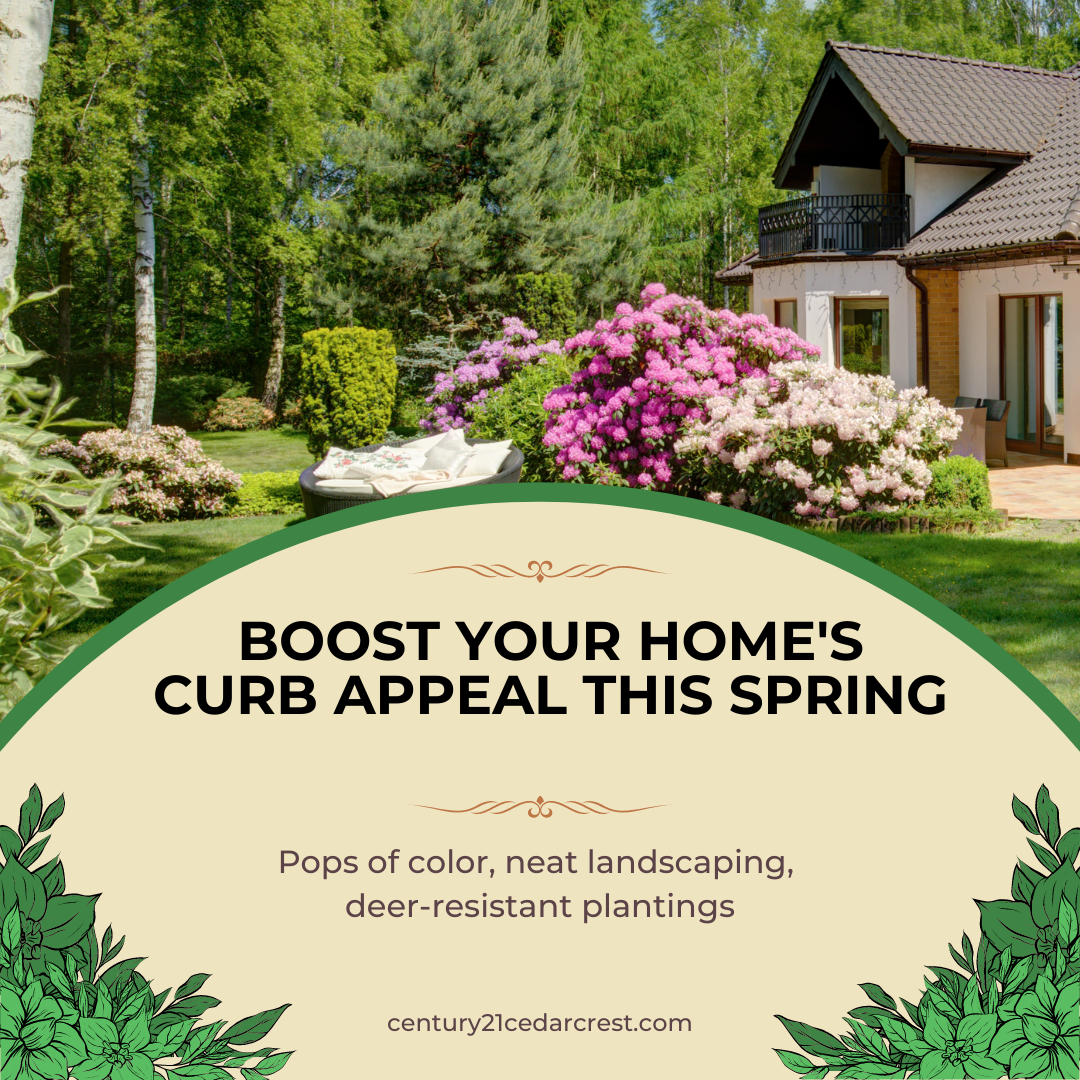 Ah, the merry month of May when all those April showers bring May flowers. It's planting and gardening time in northern NJ!
Beautiful landscaping creates awesome curb appeal that your neighbors and potential home buyers will enjoy looking at. And as a North Jersey homeowner, you'll love driving up to your home and seeing lush plantings and colorful flowers, or stepping out into your backyard where you've created a landscaped oasis.
Although the New Jersey real estate market is still super-hot, it's still important to make your property as attractive as possible to buyers—while also deterring hungry deer who roam many of our North Jersey suburban towns. Here are some landscaping tips to boost curb appeal and reduce deer appeal.
Spring planting for optimal color and beauty
Most flowers bloom in mid-spring and there is plenty of late-spring color to enjoy in North Jersey. Later bloomers include lilacs, mountain laurels, and hawthorns.
If you like tending a vegetable garden and have a sunny spot, it's time to get your veggies on—and harvest them during the summer into the fall. Corn, melons, squash, beans, peas, carrots and radishes can be planted in May; greens may still be planted (spinach, lettuce). And let's not forget those Jersey tomatoes!
Get the green going
If you use a landscaping company, talk to your contractor about how to keep your green grass healthy. You may need to plant a different variety of grass depending on your property's soil and sun conditions. Watering and feeding your lawn is important, of course. In addition to traditional fertilizers, there are organic options that don't rely on harmful chemicals to nourish your lawn. Edge the grass around sidewalks, paths, and garden beds to keep it neat.
Pop the color
Add fresh greenery, bushes with colored leaves or flowering shrubs to your garden beds. Hanging plants on the porch add a colorful touch as do planters near your doorway, around the pool, or on the patio. Laying mulch down in the garden beds also adds color (shades of brown, black) and helps keep in the moisture. You can plant flowers around standalone trees, and add brick or stone borders to dress up your beds.
Add planters with seasonal flowers around your patio, porch, and under the windows.
Tactics for keeping deer out of your garden bed
Many NJ homeowners want to take the natural route and avoid chemical deer sprays and repellents. Or they don't want to install (and see) deer fencing around their shrubs. Deer are easily startled, so hanging wind chimes or placing wind spinners around garden can help, as will a motion-activated water sprinkler to scare them away.
You can use botanical solutions as well. Deer do not like strong fragrances. For this reason, many homeowners:
Sprinkle aromatic spices on their plantings
Tie scented bar soap around their gardens
Plant aromatic perennial herbs throughout the garden such as thyme, mint, lavender, tarragon, chives, sage, and rosemary
Plant a deer-resistant wildflower mix
Use a little chemical-free repellent (and fertilizer) such as blood meal or fish emulsion
Deer-resistant plants
There is an extensive array of deer-resistant plants available in New Jersey, but they are not all surefire solutions and may not fully deter deer. Aromatic plants and shrubs with thorn-like leaves will help keep them away. Rutgers University has compiled a comprehensive list of plants, rated from A to D, depending on how frequently they may appear on deer menus (and be destroyed). There are annuals and perennials (shade and sun varieties), ornamental grasses, groundcover, and shrubs.
Get ready to show your home
If you're listing your home on the real estate market, and you've completed your curb-appeal preparations, contact CENTURY 21 Cedarcrest Realty. We'll market your home to buyers who are ready, pre-approved, and anxious to continue the beautiful work you've done. We're experts in Essex County and Passaic County real estate, and work with home buyers and sellers throughout northern NJ. We'll guide you through every step of the transaction. And your real estate associate might even bring you flowers to celebrate your closing . . . or a beautiful plant for your next home.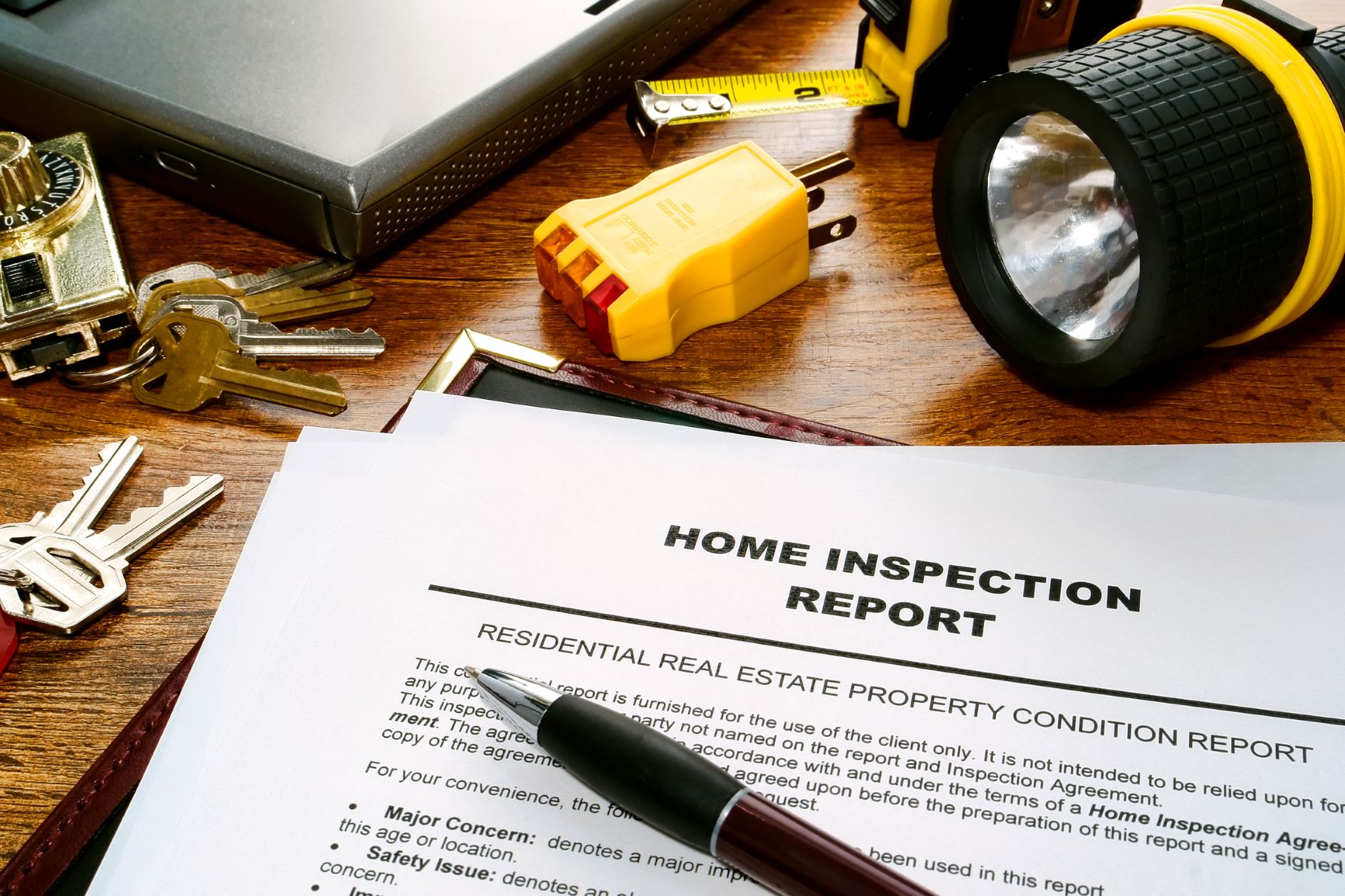 You've been looking at houses with your Cedarcrest Realty agent and found one that fits your budget—but needs a lot of cosmetic work to get them looking their best. You see the potential, but you might not see how you can pay for the remodeling the house requires.
You can get a renovation loan to finance the remodeling costs, and get into a home you might not otherwise be able to afford.
What is a home renovation loan?
Renovation financing is used when the home buyer purchases a property in disrepair to the point that it would not pass a regular appraisal inspection. Issues may be a bad heating system, faulty septic system, or substandard roof. The main criterion is that there is something that will not meet government health and safety requirements for a domicile.
A home renovation loan is bundled as part of your mortgage to finance your purchase and proposed renovation. Jeff Greenberg of Guaranteed Rate Mortgage, a CENTURY 21 Cedarcrest Realty expert resource, explains it this way:
"This type of loan product is not for distressed fix-and-flip properties. Renovation financing is meant for buyers to use on neglected properties they intend to use as their primary residence. The renovation loan is backed by a government agency and can help people buy homes that they ordinarily couldn't afford to get into due to the subsequent renovation costs they'd have to finance."
How a renovation loan works
If the buyer is using renovation financing, this information is included in the contract's comment so the seller knows this is part of the transaction, and understands that the timing for the closing may be longer.
These loans require 45 to 60 days and have many elements to them. There are various disclosures to sign, a checklist for the contractor to complete, and a HUD consultant report must be prepared.
The home appraiser comes in and provides a report on the necessary work and the contractor writes up estimates based on the report.
The building contractor must be licensed and insured, provide three references, and understand how the money is disbursed. For example, the first payment is not disbursed until the first phase of work is completed.
The lender conducts a feasibility study before processing the loan to make sure the home's value will be enhanced within fair market value.

The buyer cannot over-improve the home to the point it is taken out of the prevailing market price for similar properties
The lender will assess if the contractor's estimates are in line with prevailing renovation costs

The renovation costs are financed into the mortgage (the seller won't have to finance the construction costs on a credit card or go for a separate loan after the closing)
Rates are about .5% higher than a typical mortgage due to the risk involved if the contractor does not complete the job. (An incomplete house is not loan collateral in this circumstance.) The debt-to-income qualifications are the same as a first mortgage.
The buyer gives a down payment on the sale price and renovation amounts, and can also finance the closing costs on the renovation portion.

For example, a home sells for $400,000 and needs $50,000 in renovations. The buyer gives a down payment on the full $450,000 and finances the rest together in one mortgage product.

The buyer has six months from time of closing to complete the work and must hold the loan for at least six months. The buyer can extend the work timeline for another six months if time is needed to complete renovations.
Each government agency for mortgages (FHA, Fannie Mae, Freddie Mac, VA) has a renovation product with its own parameters in terms of loan amount and work allowed. The least restrictive is the FHA, which allows buyers to do any kind of remodeling work as long as you maintain foundation footprint.
Benefits of renovation financing
Renovation financing provides flexibility for buyers and gets everyone to the closing table when a distressed property is for sale.
If a house is in disrepair, you as the buyer are likely be bidding against fewer buyers (since move-in-ready homes are more competitive). If the seller is unwilling or unable to take on the needed repairs, you can close the transaction with the financing needed to get the home in good condition and ready to move in.
"We were delighted to have Jeff present a seminar about renovation loans to our agents, who now have another tool in their real estate toolbox to benefit our customers," said John Sass, broker owner of CENTURY 21 Cedarcrest Realty. "These loans present our buyers with more opportunities in the North Jersey real estate market, since they can get into a house that has good bones but needs a lot of work. Buyers can take advantage of this loan product to buy the house they want and get to work on it with the financing already in place—and enjoy their new home knowing important cosmetic and structural renovations are taken care of from the start."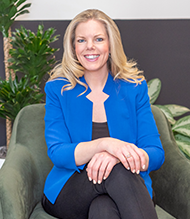 Julie Zack got her real estate license just under a year ago and came to CENTURY 21 Cedarcrest Realty in January. She is soaking up the training and mentorship she's receiving here.
Her professional background includes work with automobile dealerships in the Motor Vehicle Department and in the high-end vintage car arena. She moved to northern New Jersey in 2016, eventually purchasing a home in Little Falls. When the pandemic hit, she worked from home as the executive assistant to the CEO of a manufacturing company. Suffice to say, Julie knows her way around numbers and paperwork, which greatly benefits our real estate customers when it comes to getting transactions to contract!
She liked the flexibility of working from home, but saw the potential for doing something different. In 2021, she decided to go into real estate, got her license and launched her next act.
"I didn't have direct sales experience at the time but the ability to be my own boss, as I am in my real estate career, was very appealing," said Julie.
She worked with a business coach, read dozens of personal and professional development books, and realized the most important factor for her in terms of a real estate brokerage was agent support.
"I'm still learning and need guidance and hands-on support; that's what I'm getting at Cedarcrest Realty," said Julie. "I learned more in two hours with our sales manager, Dennis DiSabato, than I did in the 10 months prior to coming to Cedarcrest." She is eager to learn the business and said, "I read tons of books, listen to podcasts and watch videos, but there's nothing like having someone right there to help me when I need it."
Julie is taking advantage of our CENTURY 21 XCELLERATE lead generation program and benefits greatly from the guidance provided by Jill Savva, who is our field trainer and works with new real estate agents to develop their skills. "You don't get that kind of real-time training anywhere else," she said.
She also likes the tech tools available to her as a CENTURY 21 real estate agent, and the fact that she now lives just minutes away from our Little Falls office and close to our Caldwell office, with easy access to our trainers, mentors, and support.
"The support and team atmosphere at Cedarcrest Realty is remarkable, and truly unique," said Julie.
She is working with first-time and move-up buyers throughout North Jersey counties with a focus on Little Falls and surrounding towns. When she's not working with homeowners or buyers, she and her pup Monroe enjoy walking the local trails and parks. You can contact her at juliezackrealtor@gmail.com.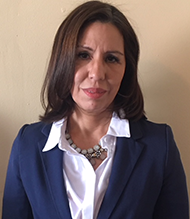 Jackie Cardona of Bloomfield has been at CENTURY 21 Cedarcrest Realty for five years. In that time, she has distinguished herself as an effective real estate agent while holding down a full-time job for an area municipality's building department.
As a dual career agent (working a full-time job while doing real estate part time) she has found a way to balance both jobs and serve her real estate customers with grace and a good measure of time management!
Using past experience to build her business
Jackie got her real estate license many years ago with the idea of having a career she could continue after her retirement. When she began giving her post-retirement plan more thought, she interviewed at Cedarcrest Realty.
"It felt like home at Cedarcrest. It's so comfortable to work with a team where everyone helps each other out. There's a lot of trust between agents and a high level of comfort. Plus, everyone is willing to teach you something if you don't know it," said Jackie.
As a dual career agent, she cannot always make team meetings and on-site trainings. She credits sales manager Dennis DiSabato and Susan Mazzetta for helping fill that gap.
"Dennis is on speed dial for me, and he and Susan are so generous with their field experience," said Jackie. "I learn from their stories of what they've gone through in the business and Dennis provides excellent guidance to make sure more complicated deals work out."
Thanks to her professional experience, Jackie has a great deal of "inside knowledge" when it comes to home buying, selling, and renovation that she applies in her real estate business. At the construction office (where she has been for 16 years), she reads building plans all the time and knows the permitting process. Prior to that position, Jackie was a paralegal for a real estate attorney for 20 years.
With that background, she has developed a book of business with real estate investors seeking distressed properties to "fix and flip." She enjoys a strong referral network within the investor community and often handles both sides of the transaction—selling homes to investors, then selling the renovated homes for them to others, most often in. Clifton, Nutley, and Newark. The secret to her success?
"I love old homes, and ones that need TLC, to see them transformed," said Jackie. "You need to have an eye for that and to see the possibilities. I enjoy presenting those homes to buyers with a 'look what you can do with this' approach." It's an approach she also uses with first-time home buyers, with whom she finds tremendous personal reward when the excitement of finding that perfect first home sets in.
Understanding her customers' needs is key
Regarding her work with real estate investors, Jackie said that "Whenever I see fixer-uppers on the multiple listing services, I do a market analysis of the property and present this to the investor. I have a firm idea of what they will want to put into the rehabbing the property and understand what they're looking for to put in bids. I also know what it will take to perform all the cosmetic or structural renovations. I'm presenting good deals to them in terms of solid properties to renovate and sell at a profit."
Given her full-time job, Jackie is creative about carving out the time to work with her customers. She shows homes in the evenings and on weekends, during her lunch hour, or takes personal time when needed for closings. She is fluent in Spanish, so she can serve the Spanish-speaking community with ease.
When she's not working, working, working, Jackie enjoys spending time with her three grown sons and her five grandchildren.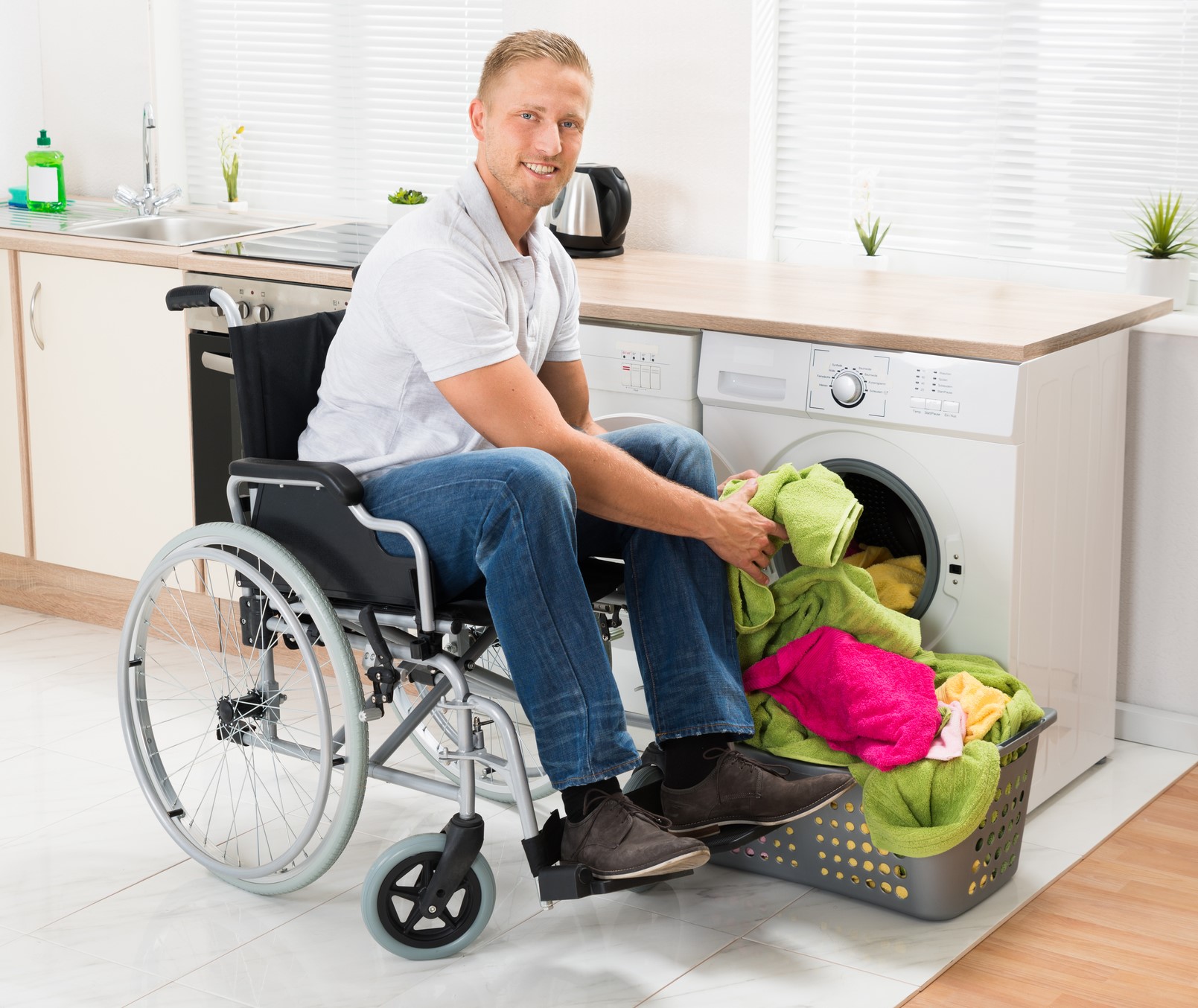 Physical disabilities require that homeowners have greater accessibility in their homes. Finding a house that meets your aesthetic desires and mobility needs can be somewhat challenging. And accessibility means different things to different people.
At CENTURY 21 Cedarcrest, our goal is to always make the home buying journey as stress-free as possible. We offer these tips for house hunters with disabilities.
Check with your real estate agent about listings specific to accessible housing. Choose a real estate brokerage that knows the areas you prefer very well, including the neighborhoods and town amenities that support residents with different needs. When the real estate agent pulls listings for you, they should also be homes that meet accessibility criteria, or properties that could be modified to do so.

Be specific about your needs or preferences, based on your abilities. A checklist of your requirements will help your real estate agent pinpoint the most sensible listings for you. Older adults with declining mobility or other conditions will have different requirements than those who use wheelchairs and need wider hallways and doorways (a minimum of 32 inches).

For example, if steps are completely out of the question, a single-floor home with an accessibility ramp (either existing or added) or a condo in an elevator building make the most sense. However, even those may have a few steps to deal with between rooms (such as a sunken living room).

Take a virtual tour in advance to refine your search. The video or images should cover all rooms including kitchen and bathrooms, and show the layout. That way, you'll see any potential barriers or modifications that can be addressed with the seller, or cross a property off your list.
Think of future modifications you may need. This is especially true of older home buyers who are downsizing. They may not be thinking about walk-in or roll-in showers, grab bars, wider doorways, or closets with lower shelving for easy reach. Look at properties that can change along with your evolving needs as you age—or properties that can be modified with relative ease to meet current needs.
Develop a renovation budget. Unless you are moving into a housing community that's purpose-built for individuals with disabilities, you will likely have to make some renovations for safety and accessibility. These may include widening doorways, altering the kitchen layout, remodeling the bathroom, or building indoor ramps between rooms. Include these figures into your overall housing budget so you stay within your comfortable price range. Also ask your real estate agency to recommend reputable general contractors in the area who are familiar with ADA specifications.
Check the home's lighting. Good lighting helps reduce household accidents. Is there good natural light during the day? Are there ample light fixtures in the hallways? Are there places to add light fixtures safely?
Check out the community. What amenities does the town offer? How is the parking situation in your target neighborhood and local shopping district? Are streets well-maintained? Although municipal buildings will adhere to ADA requirements, are the local restaurants and stores accessible to all patrons?
Contact CENTURY 21 Cedarcrest Realty. Our team works closely with every home buyer who's looking and homeowner who's selling. We take the time to understand what our customers are looking for, within their budget. We guide home buyers through the entire process with care, and can provide referrals to professional resources in the area as needed. Give us a call at 973-228-1050 to get started. Or visit our accessible offices in Caldwell or Little Falls.
CENTURY 21 supports Easterseals, a leading advocate for people with disabilities. You'll find helpful information regarding accessibility on the organization's website here. At Cedarcrest Realty, we look forward to helping you find a home that meets your particular needs.
Cedarcrest Realty Offers Tips for Home Sellers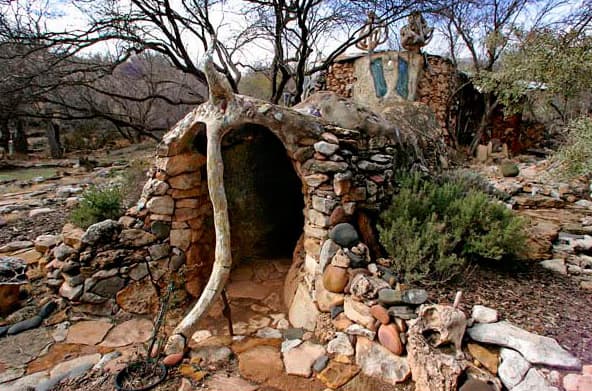 Are you selling a home with unique features? This may be a piece of real estate that stands out in its area, such as a farm or ranch in an area not typically known for this (like our northern NJ suburbs) or a waterfront property in a little-known cove.
Perhaps your home was once a church or a stable. Maybe it's perched atop a mountain, situated deep in the woods, or has all glass walls. You may have built a home inspired by nature with "woodsy" architecture, or built it into a mountainside or a cave. Does it have a nautical or outer space theme that caters to a niche audience?
Your unusual property may be a home with spaces that are not commonly found in your neighborhood, such as:
A basketball court or indoor swimming pool
A garage converted into a guest suite, home office, or recording studio
A basement space tricked out as a cigar bar and wine room, a media room with projection and surround sound, or a well-equipped home gym
Large property with a guest house or other outer buildings (raw or renovated)
You can see some truly unique real estate from around the world here and here.
Marketing your unusual property
Communication
Marketing a unique property takes some skill and savvy—and knowledge of the local market and what prospective home buyers are looking for. This also means working with a real estate agent who understands how to get those unusual listings shown to the right people. It's important to communicate from the start so that both agent and customer are on the same real estate page in terms of types of buyers to attract (or if you're the buyer, types of homes to show you).
For a musician, the house with the recording studio or purpose-built rehearsal space will be attractive.
Someone who loves the great outdoors may gravitate to a home in the woods or with scenic mountain views.
The weekend farmer may love the potential to do some tilling and growing on that farm property.
The woodworking enthusiast, weekend mechanic or artist will appreciate the barn that can be turned into a workshop or studio.
Fitness buffs will see the benefits of that indoor pool or home gym right away
Film lovers will flip over the home theatre
Digital marketing
As your Cedarcrest Realty agent will explain, online marketing that uses specific keywords in the listing to attract specialty buyers is a start, as is creating marketing materials that celebrate the home's unusual features or location. This will help market the property to target buyers who may not be looking for a "three-bedroom ranch with updated kitchen and bath."
Social media—especially Instagram and Facebook—is an excellent vehicle for showing off a home's unusual aspects. At CENTURY 21 Cedarcrest, we recommend hiring a professional photographer with experience in real estate photography to create compelling social media posts and put together a powerful virtual tour. If that's not in your budget, you can capture high-resolution digital photos from your camera (even a new cell phone); be sure to stage the rooms before shooting. If your home is on a large or extraordinary piece of land, or has exterior features of note, drone photography is a great way to show the setting and adds drama to your listing.
Real estate staging
As with any home on the market, real estate staging is an excellent way to show the space and give prospective buyers the ability to visualize themselves and their furnishings in the rooms. Even if you're attached to your Star Trek memorabilia in your Enterprise-shaped house, your Cedarcrest Realty agent will likely recommend you pack away most of it to clear the clutter. If you've chosen dark colors for your walls, buyers may turn away because of all the work it takes to paint light over dark (primer, two coats of paint …) so you may have to repaint the walls in more neutral tones, even though that deep blue matches the captain's quarters on the cruise ship.
Be flexible
You may have made some home improvements that appeal to you but are making it difficult to sell your house—whether it's an odd addition or level, choice of construction materials, or using a space differently from its intended use. Your real estate agent may suggest reverting a private office into a den or repurpose a large addition into a great room that appeals to families. Remember, your agent is there to help you get the best offer in the shortest amount of time!
At CENTURY 21 Cedarcrest Realty, we work with home sellers and buyers across northern New Jersey, with a specialty in Essex County and Passaic County. Our agents have helped thousands of buyers and sellers throughout our 12 years in business, making successful, happy matches with all types of properties in all price ranges. Contact us at 973-228-1050 to get your home listed or to start your home buying journey with our experienced real estate team.
In North Jersey, fall and spring offer great opportunities to jazz up your home's curb appeal. Before the grass goes dormant and snow covers the ground, there are some easy ways to help your home catch the eye of home buyers in your market—and have real estate agents anxious to show it to their customers.
Power wash your driveway and pathways
Pressure washing revitalizes patios, walkways, and driveways and gives an overall cleaner appearance to your property. If your house's siding or foundation, or the tool shed could use some sparkle, pressure wash them as well.
Clean up the house's exterior
Look for areas that need some TLC, such as
Gutters– check for leaks and seal those up, clean out the leaves and clear downspouts
The deck, which may require a fresh coat of stain or paint, or have wood spindles, railings or floor planks that need repair/replacement
Shutters and trim
Garage doors and windows – check for any needed repairs, painting, or sealing needs
Light fixtures – clean the shades, make sure bulbs are working
Railings – clean and repaint rusted spots, check to make sure railings are not wobbling or coming loose from the house or stoop
The front door should be as inviting as possible. If it needs to be replaced, there are many options at various price points.
Clean out garden beds
With all the leave falling and summer plants "closing up" for the season, it's time to rake out the old, wilted flowers and greenery. Remove any annual flowers, pull out the weeds, and bag up the dried leaves along with what's falling on your lawn. Fall is also a good time to put down a fresh layer of mulch to liven up the garden beds and help retain moisture.
Plant colorful autumn flowers
Your garden beds needn't look so sad after spring and summer flowers have completed their bloom cycle. There are some wonderful colors to add to your flower beds with cool-season plantings such as mums, asters, flowering kale, celosia, goldenrod, and sumac. If you have flower boxes under your front window, clean those out and plant fall-friendly flowers.
Rake the leaves
A layer of colorful leaves looks pretty on your lawn, but a thick covering of leaves will smother the grass, which reduces air flow and blocks sunlight (and can create a sick lawn). If you have a compost bin, you can turn your dry leaves into a natural fertilizer to enhance the soil in your vegetable garden and flower beds next spring.
Prune hedges, trees and shrubs
Keep your trees and shrubs looking cared for by trimming back overgrowth and dead branches (now that there is less foliage to cover them up). Removing dead blooms can also reduce potential for plant disease and rodent nests. If your trees are growing too close to the house, have the branches professionally pruned to avoid damage from fallen limbs during winter storms.
Take care of patio and porch furniture
If you are showing your home, porch and patio furniture sets a welcoming tone and gives prospective buyers an idea of how lovely it will be to entertain in your backyard or sit on the porch and watch the world go by. Clean the tables and chairs, repaint wicker or wrought iron furnishings if it's been a while, and consider replacing cushions if they are worn and faded.
Decorate for the season
You don't need a tractor and pumpkin patch to get into the harvest-season spirit. Dress up your porch with hay bales, displays of pumpkins and gourds, hang a festive wreath on the front door, and swap out your door mat for something in fall colors. The pumpkins can be cut up and tossed around your property later for animals to nibble on as they prepare for the winter. If you have lawn decorations that need some refurbishing (gnomes, deer), fix the chips and paint where needed.
Add landscape lighting
Extra lighting around your property helps your home stand out and offers some security. Solar lights or low-wattage landscape lights connected to a light sensor are easy ways to add lighting. Of course, a licensed electrician can install permanent hard-wire landscape lighting along your front walkway, driveway, or around your patio. These are also excellent ways to spotlight interesting landscape features.
At CENTURY 21 Cedarcrest Realty, our real estate associates will offer suggestions to stage your home—inside and outside—to make sure it always looks its best for home buyers. If you're thinking of putting your home on the market, contact us at 973-228-1050.